Made to Measure Radiator Covers
Create yours now with the Jali Designer
---
Not Found What You're After?
We can create the perfect made to measure radiator covers for you. Get in touch on 01227 833333 or email sales@jali.co.uk
---
Inspiration From The Gallery
You can find more examples on our gallery.
---
Definitely Recommend
I've used Jali a number of times for fret radiator covers & bespoke cupboard & wardrobe doors. I have always found their products to be good quality and their service & delivery efficient. I would definitely recommend them and will be using their service again.
Dawn
Such a Great Product
I just wanted to thank you for such a great product. I received the custom-made radiator cover and it is perfect. Very high quality product, delivered on the date requested. I will recommend your company to friends and family. Many thanks.
P Griffin
Thank You for an Outstanding Service
Many thanks for our order, which we received today... This is the third radiator cover that we have ordered and just wanted to say how pleased we are with them...
R & S Durden
An Excellent Product and Service
My radiator covers arrived today at three thirty. By five they were assembled and in position. What an excellent product and service, the web site was easy to use, your sales staff prompt in reply and they even arrived early. Top marks. It makes such a pleasant change.
P Steel
The Quality was First Class
We recently received the kit for our bedroom radiator. Now fitted and looks very professional. No problems with making up or installing. Staff and service excellent.
H Watkin
---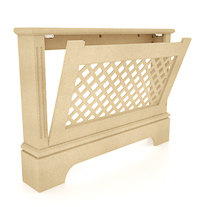 Can I access my radiator once the cover is fitted?
All Jali made to measure radiator covers have removeable front panels for easy access to your radiator and valves.
They are secured with magnetic catches and the front panels are easily removed. If you've fixed the body of the radiator cover to the wall, it can stay where it is; there's no need to unscrew it from the wall.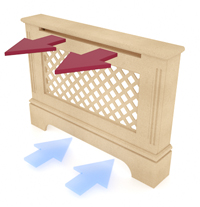 Does a radiator cover waste heat?
A radiator cover will generally help to push warm air into the room.
Without a radiator cover, warm air from the radiator can travel up the wall and collect at ceiling level. With our bespoke radiator covers, you can include a skirting gap which helps to draw cold air in. This air is heated and pushed back out through the top vent and grille, making your home more energy efficient.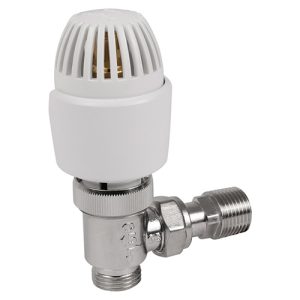 Can I fit a radiator cover around a thermostat?
Having thermostatic valves is not a problem; you just need to decide whether you want the valve inside or outside the radiator cover, which may depend on the size and position of the valve. Thermostatic valve manufacturers recommend leaving them outside; however, sometimes this is not wanted or physically impossible in which case you can simply turn up the thermostat to take into account that it is inside the cover.