Design Your TV Wall Unit
You can create your own bespoke TV Unit in our 3D designer - a media console for all your entertainment storage. This made to measure TV Unit extends the Jali dresser functionality, allowing one extra wide section optionally featuring upper & lower shelving, and a cut out to access wall-mounted TV brackets.
You can adjust the number of upper and lower sections, as well as the overall height, width and depth. Use the fitting options to fit your unit against a back wall (including provision for wall features and skirting), as well as in corners or alcoves.
Remember, you can adjust almost any detail you want: from the number of shelves to door styles.
Watch this video to learn more!
Finish Options
What finishes are available?
Jali offers 24 Paint Colours, Real Oak Veneer, White Primer and Plain MDF. The paint is water based and eco-friendly. Colour & Finish Details
Can I paint my furniture myself?
Of course! For the most affordable option choose plain MDF. To give yourself a head start, choose White Primer. Any paint type will do. You can use a brush, a roller or spray. For darker colours, you'll often need more than one coat.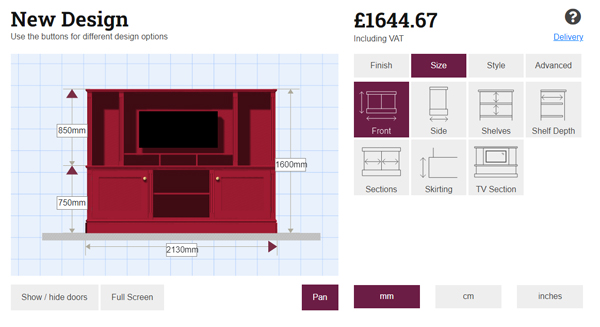 Size Options
What sizes do you sell?
Any! You can customise the unit height, width and depth in the Jali designer to get the perfect fit for your home - and your TV.
Can I adjust the shelving?
Yes, you can set the height of each individual shelf to the millimetre.
Can I adjust the depth?
You can set the cupboard (lower section) depth and the shelving (upper section) depth independently.
Can I adjust the top on larger units?
You can design your unit to be anywhere from 40cm up to 3 metres tall. For shorter units, the top would typically be a full solid board, i.e. a countertop. For taller units, you can choose to have just a top 'lip' instead. This may be in one part or several, depending on the fit and how deep the unit is. This is far more practical when the top is above head height.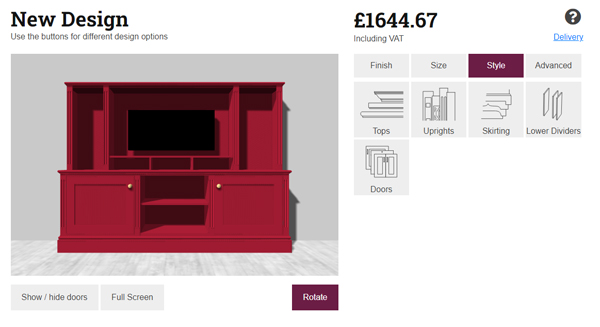 Style Options
What tv unit features can I adjust?
The doors may be either solid, shaker or can incorporate a fretwork grille, and you can choose which door handles to use, and where to position them. Doors can be hinged on the left or right, or they can be individually removed. You can also adjust the moulding style on the cupboard top and skirting, and choose from several options for the uprights. You can add doors in any section you want, both upper and lower.
What hinges can I have?
You can choose from brass, nickel or bronze (gold, silver or black). See this blog post for more information.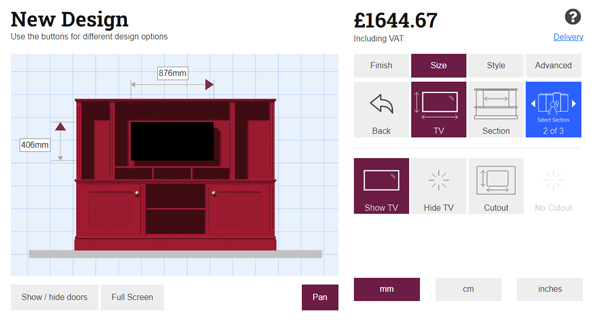 TV Options
How does it work with my TV?
You can set which upper section should accommodate the TV in the online designer, under Size > TV Section. This section may be as wide as 2m to accommodate even large TVs. You can also choose whether to have upper/lower shelving within this section. You can also adjust the TV size to visualise, but this does not change the unit itself. You can also set a cut out in the back panel (to allow acess to a wall mounting bracket).
Can I attach my TV to the back of the unit?
The back is only 6mm, and not suitable for attaching your TV. Typically you would mount the TV securely to the wall - then you can use the cut out option (to remove a section of the back panel) in our online designer to give access to the mounting bracket. In the designer, access this option under Size > TV Section. Note that for wide units, the back panel may be in several pieces. You can place the TV directly onto your mounting bracket once your unit is assembled. If you cannot fix your TV to the wall, you may wish to place it on the counter top or lower shelving.
What can I do about the cables?
If you use a cut out, you can feed the cables down the back of the unit. If you wish to implement some more specific cable management, you may wish to drill holes in the unit once assembled. If so, you may consider having your unit primed and follow up with the paint once the DIY is complete!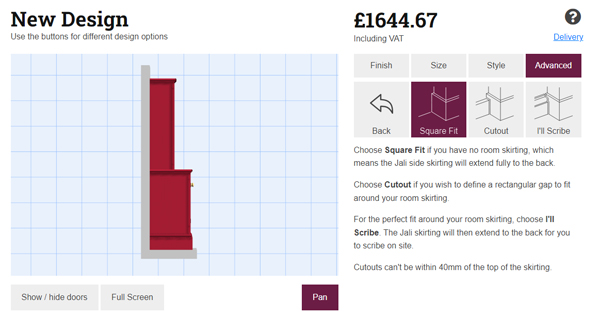 Fitting Options
What if it's going in an alcove?
You can easily set whether your tv unit should be freestanding, corner fitting, or to be fitted within an alcove.
Can I fit the tv unit to my skirting?
Jali lets you set the tv unit skirting height to match your room skirting board. You can then scribe the unit skirting to fit perfectly. If you prefer, you can include a rectangular gap for your skirting instead.
Oh no, my walls aren't straight!
To help fit your tv unit against wonky walls, you can extend the overhang (at the back) and the insets (at the sides). This will give you enough scribing margin for the perfect fit. You can also use this option to avoid conflicting with plug sockets and other wall features.
---
Choose a TV Unit to Customise