MADE TO MEASURE
MADE IN THE UK
MADE IN 5 WEEKS
MADE SUSTAINABLY
Film & TV Appearances
As well as producing bespoke furniture for the home, Jali has produced bespoke installations, fretwork and furniture for some major productions including Hollywood films, television, shop displays (including Harrods, Hamleys and John Lewis), exhibitions, mosques and the British Library. Here are just some of the noteworthy film and TV productions.
Jali Bespoke Work In Films
---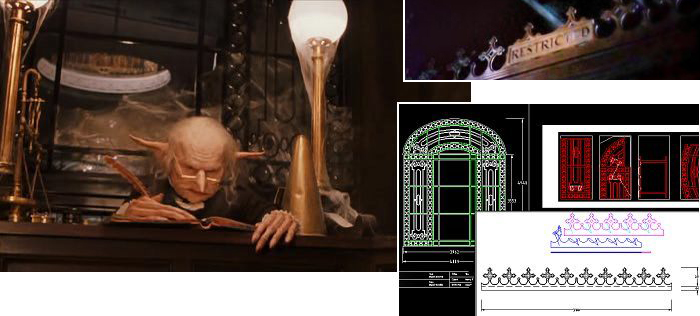 Harry Potter and the Philosopher's Stone
We made the trim on top of the Restricted section of Hogwarts Library into which Harry, Hermione and Ron sneak under cover of the Invisibility Cloak. We were also asked to make the detail around the mirrored windows in Gringotts Bank, seen in the background of the shot here. The entire window was 4 metres wide and nearly 5 metres (16 feet) tall, and we made it in several layered sections so it could easily be transported by lorry to the film set where it was finally assembled.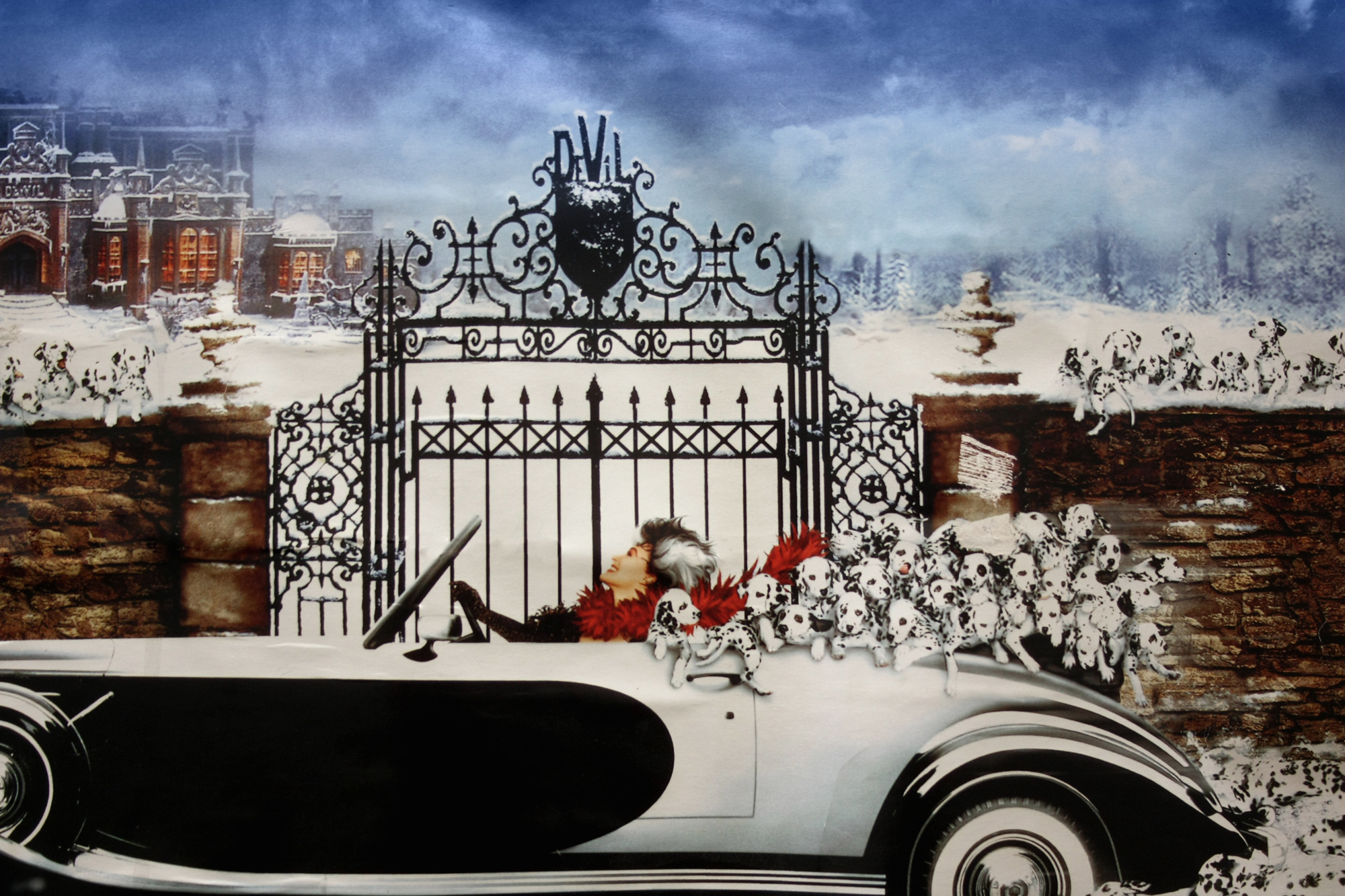 101 Dalmatians
In 1996, thirty-five years after the original 1961 animated version, Disney produced a live-action remake of 101 Dalmatians. Directed by Stephen Herek (who also directed Bill and Ted's Excellent Adventure) it starred Glenn Close as Cruella deVil, and she was nominated for a Golden Globe for her performance. Jali was commissioned to make the gates to Cruella's mansion which stood at over ten feet tall. The intricate fretwork was designed to look like wrought ironwork once it had been sprayed on set.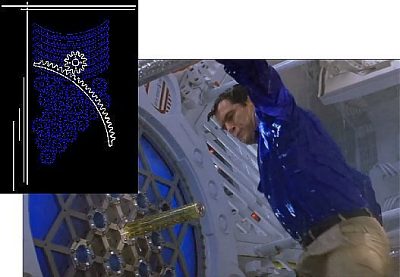 The World is Not Enough
In 1999, in his third film as 007 and the 19th overall (unless you count Never Say Never Again or the 1967 Casino Royale), we have Pierce Brosnan battling against Robert Carlyle for control of an oil pipeline. The film was shot in many exotic locations such as Istanbul, Bilbao and the Millennium Dome, but the climax of the film takes place in a sinking submarine supplied in part by Jali! We made a rack-and-pinion system which was used to open and close the hatch in the submarine's bulkhead door shown in these pictures. Although there's only one door, we supplied several sets of components in case anything was damaged during the fight scenes.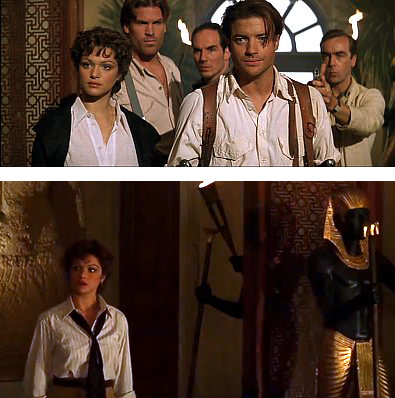 The Mummy
Updating the Universal films of the 1930s, this 1999 film pitted Brendan Fraser, Rachel Weisz and John Hannah against Arnold Vosloo's Mummy. The giant fretwork panels seen in the library at the start of the film were specified by the set designer from our pattern number 2172, which is based on carvings found in a Moroccan mosque. Each panel measured 8 feet x 4 feet and they were assembled on set by the carpenters working on the film. A few years later we made more fretwork for the sequel - this time, a bespoke Art Deco panel on the stairs in the lead characters' house.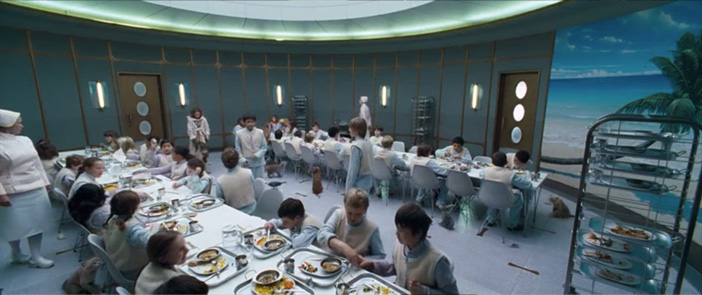 The Golden Compass
Jali helped out this production by working on the operating theatre and canteen floors, along with some classic Jali fretwork. Starring Daniel Craig, Nicole Kidman, Ian Mckellen, Eva Green, as well as Dakota Blue Richards as Lyra, The Golden Compass went on to win an Oscar!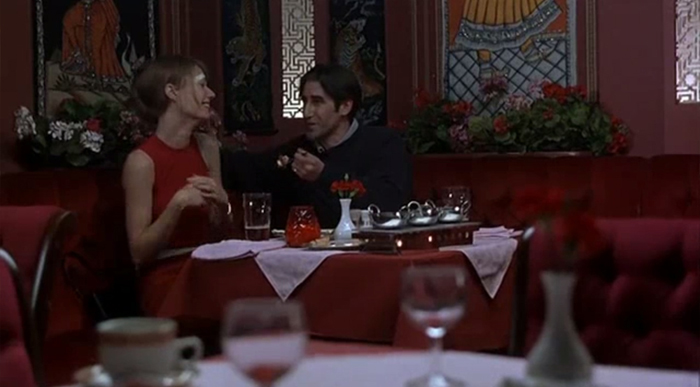 Sliding Doors
Jali fretwork features in the restaurant scene behind Gwyneth Paltrow and Kevin McNally. One point we'd like to make about this film is that, despite being set in London, the underground trains are actually blue... just like the ones in Los Angeles. And you thought we wouldn't notice. This fretwork pattern is actually a very popular choice, and you can still order it today.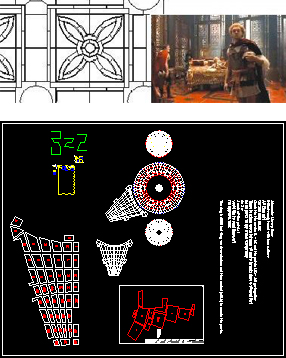 Alexander
Oliver Stone's film of Alexander the Great's life. Jali was tasked to create many intricate geometric designs for various parts of the set including Alexander's the Great's great big palace. The image on the right shows a few parts of the flooring we made. On a normal monitor it would be about 1:250 scale, so it's no surprise that the complete set was built at the giant 007 stage at Pinewood Studios.
The Phantom of the Opera
This musical was written by Andrew Lloyd-Webber and was inspired by the 19th-century novel by Gaston Leroux set in a Parisian opera theatre and the labyrinthine tunnels far below it. So yes, an opera about an opera - but we went one stage further and provided parts for the subterranean stone walls for the film of an opera of an opera. The most recognisable features from the London production were reproduced in full; the 17ft high chandelier weighed 2.2 tons, costing $1.3 million, and was provided by Swarovski.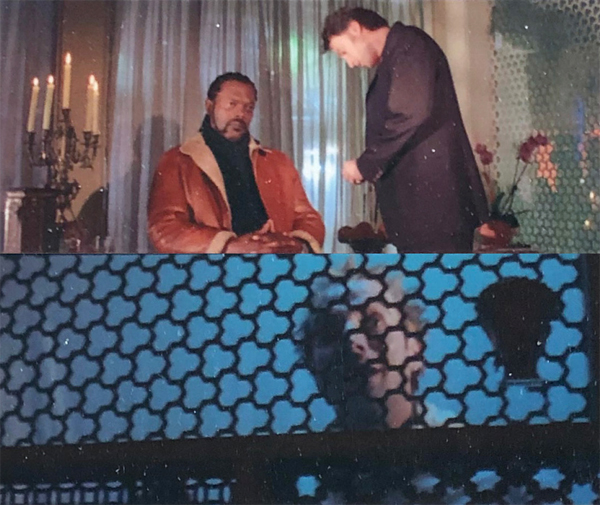 The 51st State
Starring Samuel L. Jackson, Robert Carlyle, Meatloaf and Emily Mortimer, The 51st State (or "Formula 51" in the USA) had a relatively small budget to pay its suppliers. In exchange, this was one of the films in which Jali Ltd features in the end credits! The fretwork grilles shown here, made by Jali, featured in the nightclub and office scenes.
Jali Bespoke Furniture On TV
---
Jali furniture and fretwork has appeared in a huge range of TV shows, from Eastenders, Coronation Street and Holby City to every DIY show imaginable. Here are just a few recent additions to the list.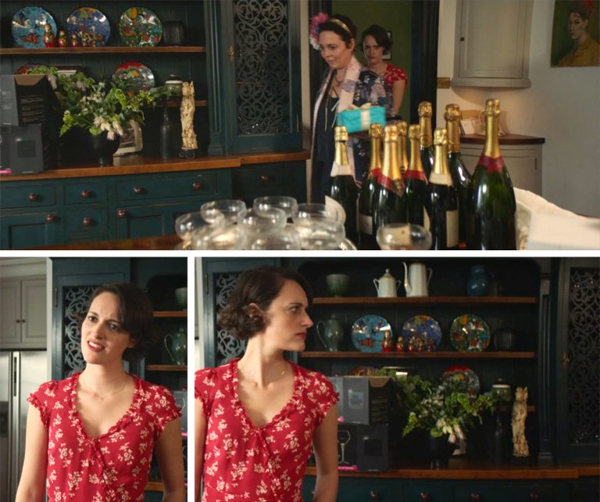 Fleabag
The large green kitchen dresser in the Fleabag family home features Jali fretwork, adding visual interest and detail to the very grand piece. The BBC show was written by Phoebe Waller-Bridge who stars in the title role, alongside Olivia Colman, Sian Clifford and Andrew Scott.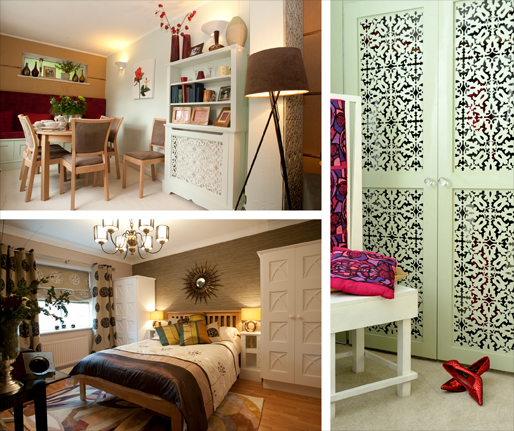 60 Minute Makeover
The interior design challenge, presented by Peter Andre, attempts a complete renovation of run-down and tired rooms belonging to homeowners usually nominated by a friend or relative. Jali have featured in many episodes, where often our fretwork makes a resounding difference to any room styling.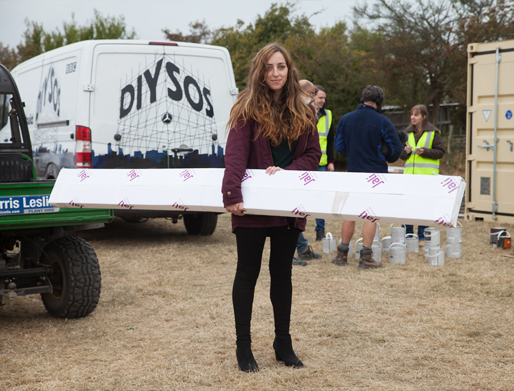 DIY SOS
Presented by Nick Knowles, home makeover show DIY SOS was launched in 1999 and features a weekly full builder and designer level renovation of a section of a viewer's home, managed by a team of professionals after a DIY disaster.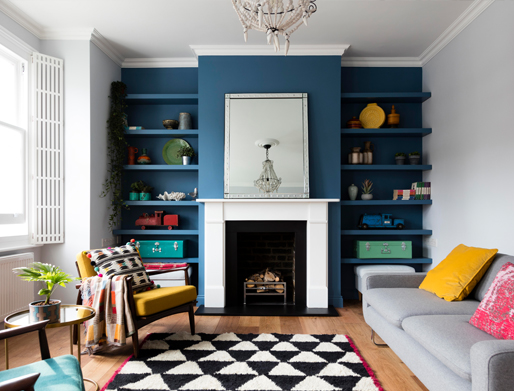 Old House, New Home
George Clarke's Old House New Home is Channel 4's makeover show dedicated to transforming period home interiors with a stunning modern look. This shot features some large white Decorative Shutters made to measure by Jali.