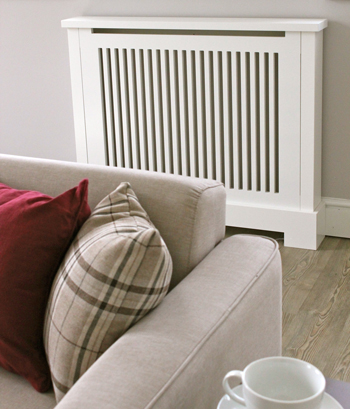 With conflicting views on whether radiator covers are effective in terms of efficiency and whether they actually add a design element to your home or become a hindrance, it can be difficult to know whether you want this addition to your home. Whether you view radiator covers as an energy efficiency tool or a cosmetic improvement to your home, radiator covers also have other benefits.
Childproofing
Despite the two key benefits of style and energy efficiency, radiator covers are also essential for childproofing. The heat from radiators can be a dangerous element in your family home and with younger children around it can very easily be an accident waiting to happen. While many replace their radiators with a low surface temperature radiator which is inexpensive, the actual act of getting one installed can be a long and arduous process.
Ultimately a radiator cover is a cheaper and offers a more aesthetic option. The functionality of a radiator cover is designed to prevent burn injuries that can occur when the heat from the radiator is too high by limiting the access to the radiator. Many radiator covers offer access through the front panel, allowing you to be able to get to the radiator when you need to without exposing it entirely to the little hands and feet around the house. You can also fit the radiator cover to include electrical sockets as it helps to hide them from those little hands and feet.
Additional Shelf Space
As many radiator covers follow a decorate cabinet design, by purchasing a radiator cover you also have an additional option in terms of shelving space. While you cannot place anything inside your radiator cover cabinet, there is plenty of space on top. From ornaments and family photos, there's room for it all! This transforms your radiator cabinet into a multipurpose piece of furniture to add a decorative yet functional flair to your home.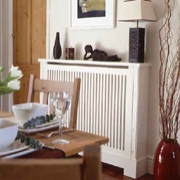 Energy Efficient
As we've already briefly mentioned, radiator covers offer better energy efficiency in your home, provided that they have proper and effective backing, as this helps to distribute the heat evenly. Provided that the radiator cover has evenly spaced ventilation gaps which also work as a design aspect, there is nothing to block the heat produced by the radiator. As the heat is encapsulated in the radiator cover cabinet, it is released slowly through the ventilation gaps in the front panels, this can keep your house warmer for longer with less energy used.
Hallway Feature
It can be difficult to make your hallway look exciting past decorating it with family pictures and the odd mirror. By adding a radiator cover you also add an additional design element which breaks up the monotonous layout of most hallways. Thanks to the ornate and beautiful patterns available on most modern radiator covers, the cabinet design of most radiator covers look less clunky and obstructive and much more stylistic.
The fretwork grills also allow for more coordination in your decor as they can match an existing pattern in your hallway. Don't be afraid of painting your radiator cover in different colours and patterns in order to make it stand out or even to fit in better with your existing decor!
At Jali, we offer a range of radiator product as well as a variety of household furniture. To find out more about the bespoke products we create contact us or take a look at our products.