Wherever you are, whatever kind of stuff you have in your life, Jali makes it easy to get the perfect storage for everything. This week I've been going back through our design records  to see how our customers have been using Jali, and I've been bowled over by their inventiveness and skill. They're using the free online Jali Designer to create all kinds of brilliant things and putting them in all sorts of places.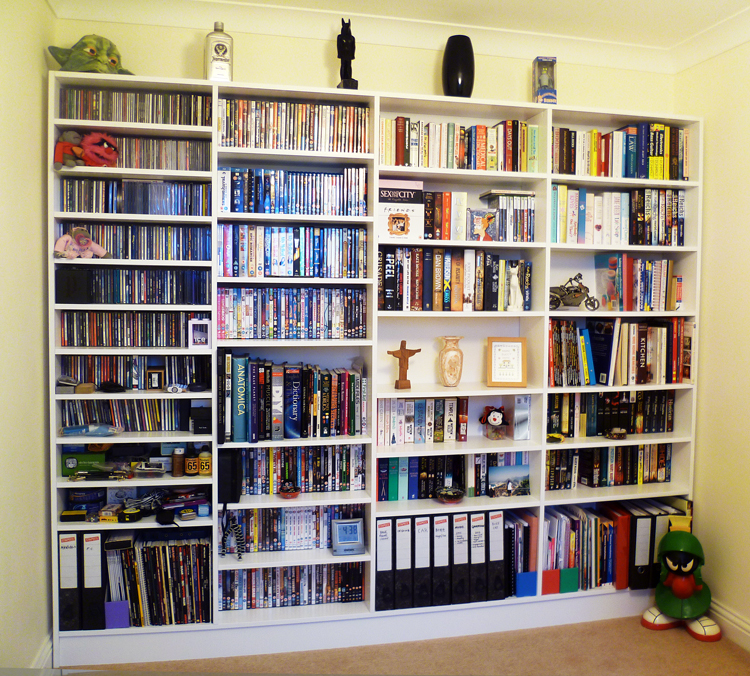 Take our very popular Flexi shelving (above, in a customer's photo). It can be designed to hold DVDs, CDs, books, files and vinyl, with shelves at exactly the right distance apart for each format, so not an inch of space is wasted and things don't fall over. Filing boxes, baskets, toys, musical instruments… you name it, Flexi shelves can hold it. And many have been designed as TV and media units.
But, as one of our customers did recently, you can also make a tall, narrow Flexi shelf unit with lots of shelves for footwear – a shoe tower! Or a tall thin bookcase for the top of the stairs, or a short, wide one to go under the eaves… the possibilities are endless. Your Flexi shelf can stand on the floor, as below, with a kickboard at the base and sides that are straight or with a recess cut out, so the unit fits snugly over your skirting. It can slide into alcoves, be mounted on a wall or sit on top of a cupboard or radiator cabinet.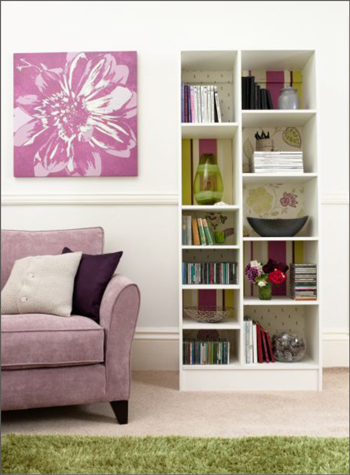 Upstairs, downstairs and even under the stairs, Jali furniture never fails to make an impact.
It's at home in bedrooms and bathrooms, living and dining rooms. kitchens and utility rooms, studies and halls. It's in hobbies, games and dressing rooms, nurseries – and even an orangery or two!
Our furniture is also being used in schools, shops and offices, for filing, storage and display.
And interior designers particularly love our products, as they can adapt, customise and finish them to fit in with all kinds of decorative schemes. They also appreciate that they are easy to deliver and install, even when access to properties is awkward.
It's clear that lots of our clever customers are just quietly getting on and using Jali in exactly the way it was intended. They are creating their very own, unique storage to suit their situations and needs, in the privacy of their own homes and offices. Although the Jali team is always ready to give advice, most of our customers seem to be very happy to do it themselves, and send their orders straight through to our automated manufacturing system.
I was particularly struck by the way people are combining different Jali product types to make amazing composite creations.  A radiator cabinet with Flexi shelves above, as already mentioned.  A dresser next to a Flexi shelf unit of the same height. Flexi shelves above a cupboard, or created in multiple units to make stunning painted or veneered wall storage. And skilled DIYers have also achieved amazing results with the addition of MDF shapes and doors to various Jali products – we can't provide a free design service for this kind of enterprise, but are always impressed when it happens!
Looking more closely at the range of designs we've received over the years has been a very encouraging experience. So if you're thinking about creating your own Jali furniture, take confidence from the many satisfied customers of all ages and occupations and from all over the UK and the rest of Europe, who've done just that. If they can create the perfect storage, we are sure you can too! Go on, give it a go…