Period Ideas magazine recently called the Jali team "innovative designers" and encouraged readers to "discover the joy of custom-made furniture." Which was great. But we think our customers are truly the innovative designers, as they are the ones who use our online design tool to easily create unique, made-to-measure pieces just for their spaces.
As if to prove the point, in the same week two sets of customers sent in photos to show exactly how their custom-made furniture from Jali had transformed their spaces – and brought joy into their lives.
Angela and David run the amazing Bratton View Bed and Breakfast in Devon, which is reopening on 1 March 2015 after a temporary closure, much to the joy of its many fans. The website is www.brattonviewbedandbreakfast.co.uk and the B&B has 100% positive reviews on Tripadvisor for every category!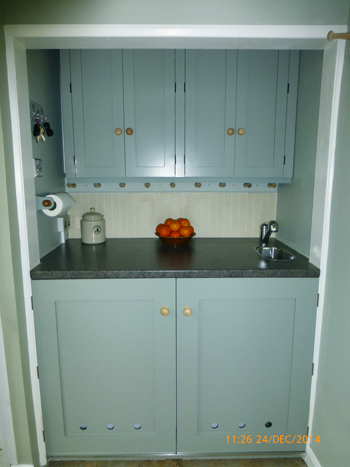 Angela has used the Jali Designer for lots of projects, including the refurbishment of a lobby and kitchen.
In the lobby, she wanted to hide away a fridge and a freezer, as well as cleaning materials. Angela also needed storage on the wall above the worktop.
We cut ventilation holes in the bottom of the Jali doors that Angela designed for the existing floor-standing unit; they arrived with hinges, handles and a topcoat in Angela's choice of the new Jali paint colours (contact us for details).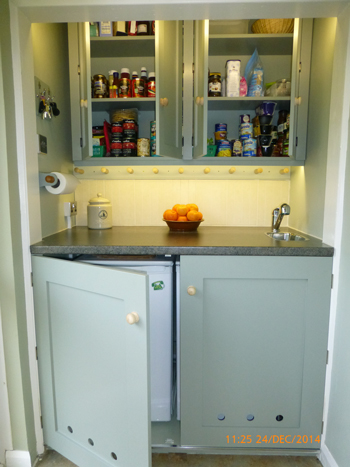 The cupboards were also top-coated and Angela ordered a set of our new Shaker peg rails for extra hanging space and to finish off her new, chic lobby space.
Angela is delighted with the results, especially with what she calls her "BOGOF" (Buy One, Get One Free) cupboards, where she can now store extra supplies of baked beans and tinned tomatoes without cluttering up the kitchen..
Speaking of which, we'll reveal her kitchen makeover in a future post…
Meanwhile, on the opposite side of the country Jali customer Margaret has used several of our products to transform a utility space/seating area into a really welcoming part of the house.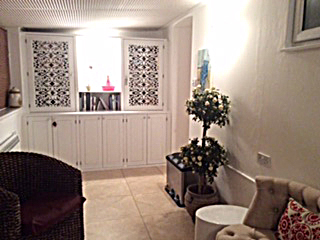 Like Angela, Margaret wanted to hide away her white goods, so all her big appliances are now neatly behind the Jali Shaker-style doors at the base of the end unit, but still easily accessible.
The base unit itself is actually a Jali radiator cabinet without a front panel, as it needed to be 650mm deep with no inner sections or shelves, in order to house the white goods. Margaret ordered six Jali doors for the front of the unit and we provided two extra uprights to attach them to. There is plenty of additional storage in the wall cupboards above, which have fretwork doors in pattern 2082.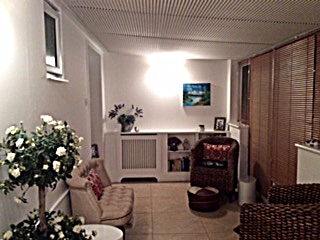 Angela and Margaret have also used our versatile MDF shapes to add worktops, backs and other elements to finish off their schemes.
The Jali team is always very happy to give advice and, if appropriate, tweak your designs so they give the best possible outcome – without breaking the bank!
It's always great to discover what our clever customers have achieved, so if you have a similar success story, we'd love to hear from you. And if this has got you itching to transform an underused, unlovely part of your home, head on over to jali.co.uk – Doing It Yourself has never been so rewarding!