Well, they've done it again – our canny customers just can't stop creating unique and fabulous furniture with our products! This week's success story stars Bev and Roger, who used Jali to solve a tricky modern storage problem. I'll let them take up the the story…
"We wanted a stylish piece of furniture to house the TV and all the associated paraphernalia that goes with it these days – easy (or so you would think!). But not if the only wall available also had a full length radiator.  After designing the desired unit  we searched for someone to make it reality and found Jali.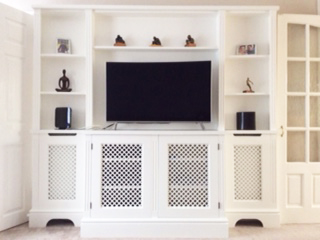 It was vital that the dimensions were spot on as the unit had to fit between two doors, accommodate two radiators as well as having enough space for the TV. From our first contact via email, Mark at Jali was fantastic; he understood exactly what we wanted and was extremely patient, answering all our questions and making several adjustments.
We arranged a visit to go over the final plans and also took the opportunity to see displays of various designs in Jali's showroom in Kent – we were extremely pleased to see that we would be getting a high quality piece of furniture at an amazing price!
We found it really quite simple to put our Jali units together (the difference between Jali and other flat packs was that we had excess fittings rather than any missing!). It was definitely a two-man job due to the weight of the dresser unit.
As the photo shows Jali delivered exactly what we wanted AND at a great price! We have absolutely no hesitation in recommending Jali to everyone and will definitely order more radiator covers to replace our existing (flimsy) ones from well-known DIY stores."
Bev and Roger also told us that the only hard part was having to cut out the back of the central base unit to accommodate the radiator pipes (as they knew would be the case) and getting the angles spot on for the base plinths. But, they said, they got there in the end and feel really pleased.
We're delighted too – there's nothing nicer than helping people solve their space and storage problems and achieve the results they've been dreaming of. Mark from Jali (we also think he's fantastic) definitely had a bit of a glow about him on hearing Bev and Roger's compliments. And as we head towards Christmas, we'll be even busier than Santa's elves, solving your home design problems, one modern storage unit at a time…