Space-saving ideas are worth their weight in gold – but with Jali you don't have to pay a fortune to make them real! Our unique approach to making space work for you means you can have all the storage you dream of, at an affordable price.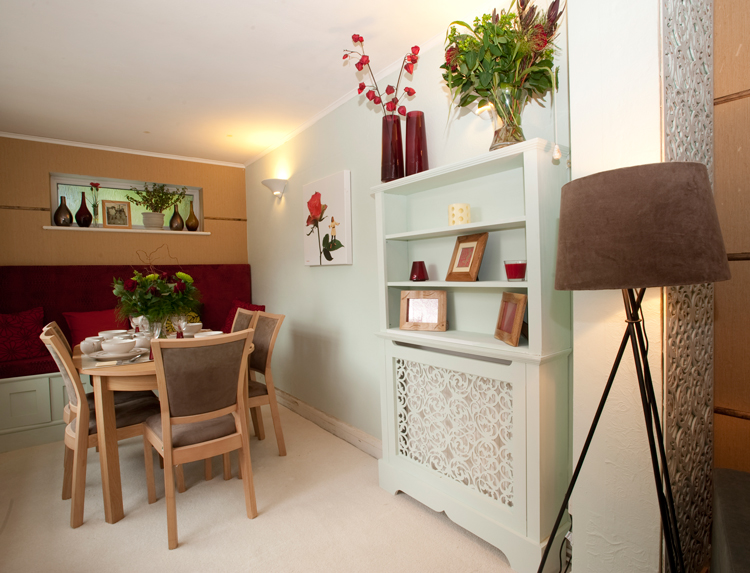 Our radiator cabinets include a handy shelf as part of the design, but if you have a wall above your radiator, why not make the most of it?
Just measure your radiator – there's a "Help with measuring" button on the screen – and enter the numbers or drag the arrows until you get the right size. Then press "Next" and the Designer will automatically create a cabinet with the minimum clearances needed for the size of your radiator.
Now press "Next" again and, as if by magic, the Designer will add shelving above your cabinet. We've even made it easy to design storage for popular formats such as CDs. And if you want to customise the bookcase section yourself, there are buttons for instantly adding or subtracting shelves and for making them evenly spaced or graduated, as seen below – even more Jali magic!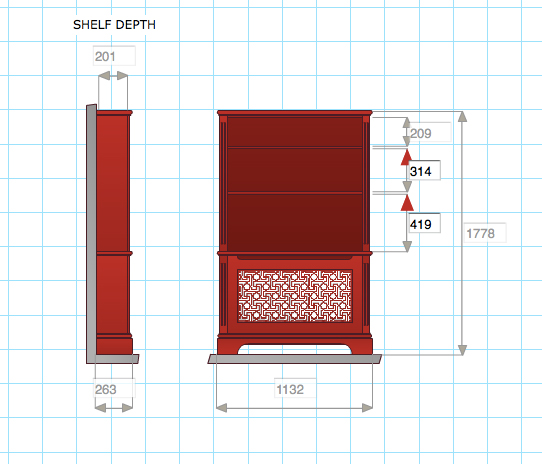 You can extend the width of your unit, but the Designer will only go up to a maximum of 1200mm. If you'd like something wider than this, call us on 01227 833333.
If you change the measurements of your combined unit after you've put in your radiator sizes, it's a good idea to use the 'Back' button to check there is still enough clearance for air flow. Just press the 'Inside' button to see a picture of your radiator with the frame of the cabinet around it.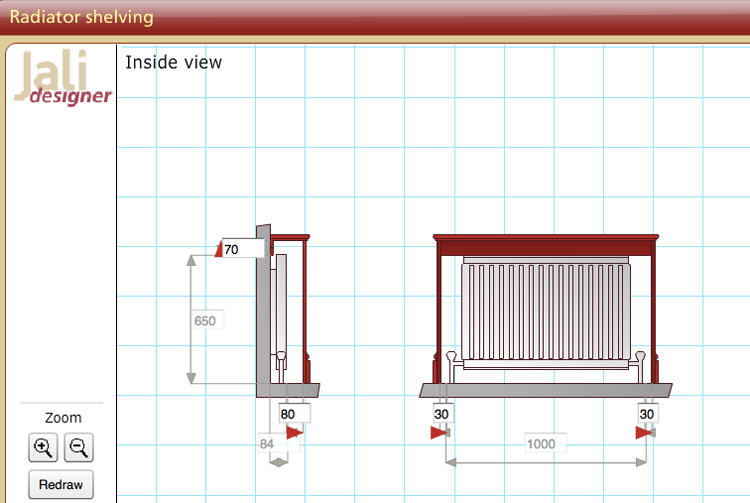 The minimum overall depth of the bookcase section is 200mm, so this means the cabinet cannot be less than 200mm in depth; the Designer will automatically add sufficient clearance. But you'll also need at least 30mm between the far left and right-hand side of the radiator (including the taps or valves) and the frame. There also has to be at least 70mm between the the top of the radiator and the underside of the frame.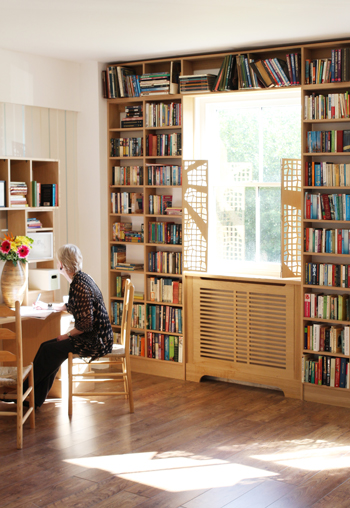 Jali's unique Flexi shelving is another brilliant way to fit storage into almost any space in your home or office. For example, fill a wall with compartments of different sizes.
Then extend the unit above and/or under a window or door, for a bespoke run of shelving that would be impossible to find in any store.
In fact, unless you build it yourself from scratch or bring in a carpenter or joiner at great expense, it's impossible to get the kind of design and quality that Jali offers you. It's made-to-measure made easy!
A single unit can be made up to 3 metres in width and height, for truly stunning and seamless furniture that makes the most of every last inch of space. And your unit can be primed, top-coated or finished in beautiful real wood veneers in oak or walnut.
Depending on your needs, we can make you a long, low sideboard, or a tall and handsome wardrobe. Together, we can produce a customised cupboard for a group of guitars or a stash of shoes. Kitchen, bedroom, bathroom, living room – if your stuff is in the way, or crying out for display, we can solve all your space problems, beautifully (and economically)…