Soft-close drawers are amazing. Until you've experienced the effortless way they open and close, you have no idea what a difference it makes.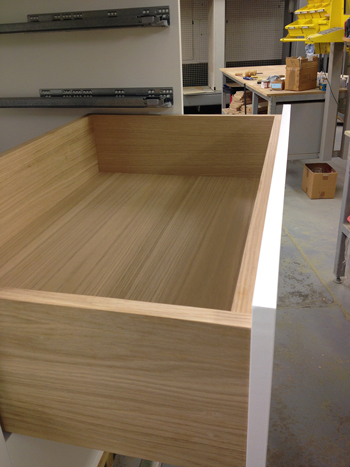 On opening, there's a tiny bit of initial resistance, then the drawer glides out to its full extent and stops automatically. To close, push gently and at a certain point the hidden mechanism takes over and the drawer glides into place, all by itself. No slamming, jamming, stress or strain!
Whereas our basic drawers are delivered as a flat-pack, Jali soft-close drawers are pre-assembled in our factory, with the robust slide mechanism mounted on the base of the drawer, so it's totally hidden.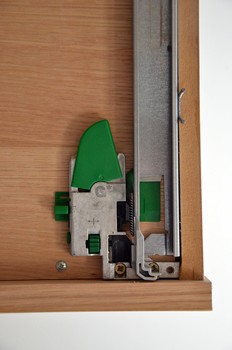 The high quality of the mechanism means it can handle a load of up to 70kg with absolutely no problem. And the abrasion-resistant nylon rollers ensure that operation is  always smooth and even.
However, when your Jali furniture is fully installed, you can, without needing any tools, easily adjust the drawer mechanism to ensure optimum glide.
To take a drawer out, find the two locking devices under the front, at each side. Then, supporting the weight of the drawer, pull both the green triangular levers at the same time towards the edge of the drawer. You can then lift the drawer off the sliders.
The entire drawer can be adjusted in three dimensions: vertically, horizontally and angle of tilt. Use the buttons and wheels on the locking mechanisms and the adjustment adaptors on each side of the back panel of the drawer.  With just a few tweaks, you've got perfect balance and alignment! To replace the drawer, just put it back on the runners and push it in until it clicks into place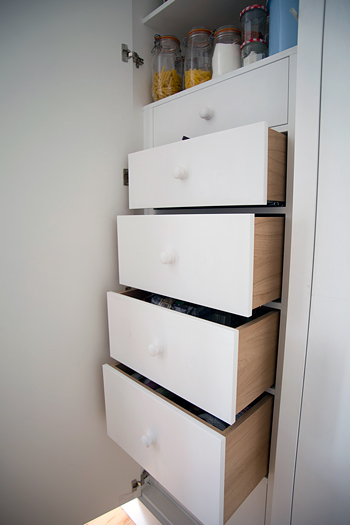 Our customers have designed impressively large drawer units for utility rooms and kitchen storage, as shown in the example on the left, and they work brilliantly, even when fully loaded. They also sit neatly inside Jali wardrobes.
At the moment these drawers are available on our new dresser designer. But if you'd like them in wardrobes or as an upgrade to our standard drawer units, just contact us.
Painted or veneered, or in a combination of the two, our soft-close drawers give a sophisticated touch – literally! There are real oak or walnut finishes, as well as our new range of 24 paint colours. So the only problem you'll have is is one of choice…
As with all our products, our soft-close drawers are made with care for a long and useful life in your home. You'll wonder how you ever did without them…