Ah, that bespoke kitchen, the one you're dreaming of – beautiful, practical, perfect. But then there's the cost, the one you have nightmares about: estimates more eye-watering than a string of onions, prices as high as Michelin-starred soufflés…
But Jali has a special, secret recipe to help you achieve your dreams, without making an Eton Mess of your finances.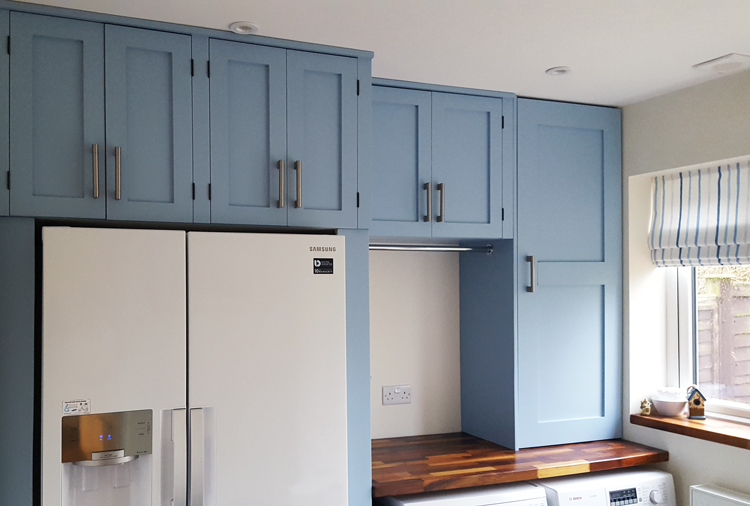 Our customer Andrew used it to create a stunning bespoke kitchen, with some very clever storage ideas behind the elegant frontages. Having designed what he needed online on the Jali website, he then let us know that "The packages arrived perfectly and have all been fitted. We have some painting to do and once complete I'll send you some photos."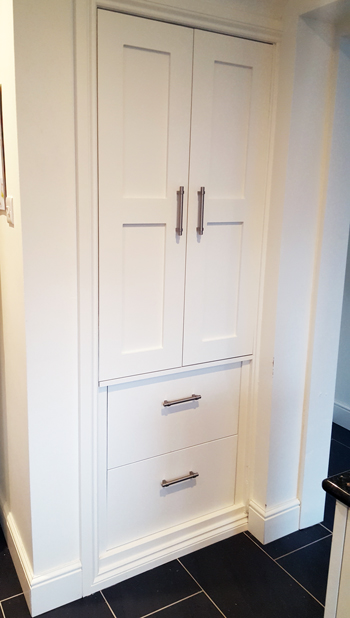 Andrew was as good as his word and we were thrilled to see the results; thank you!
"With regards to the items we ordered from you we have found them to be perfect," he said. "To be able to custom size a unit or door for a space is a very useful solution."
Andrew also told us "We are very happy with your service and would highly recommend you to others."
As well as a run of cupboards over fridge-freezer and worktop, Andrew designed a storage unit comprising a fitted cupboard and two deep drawers.
If you have a kitchen with nooks and crannies, awkward corners, alcoves or any irregular areas, Jali can solve a multitude of problems. It means you can make the best use of every last scrap of space, without comprising your kitchen's appearance.
The photo below shows what's inside Andrew's stylish Jali unit: I love the way Andrew has added storage racks inside the doors, having used the Jali Designer to set the lower shelves far enough back for them to close. Clever, eh?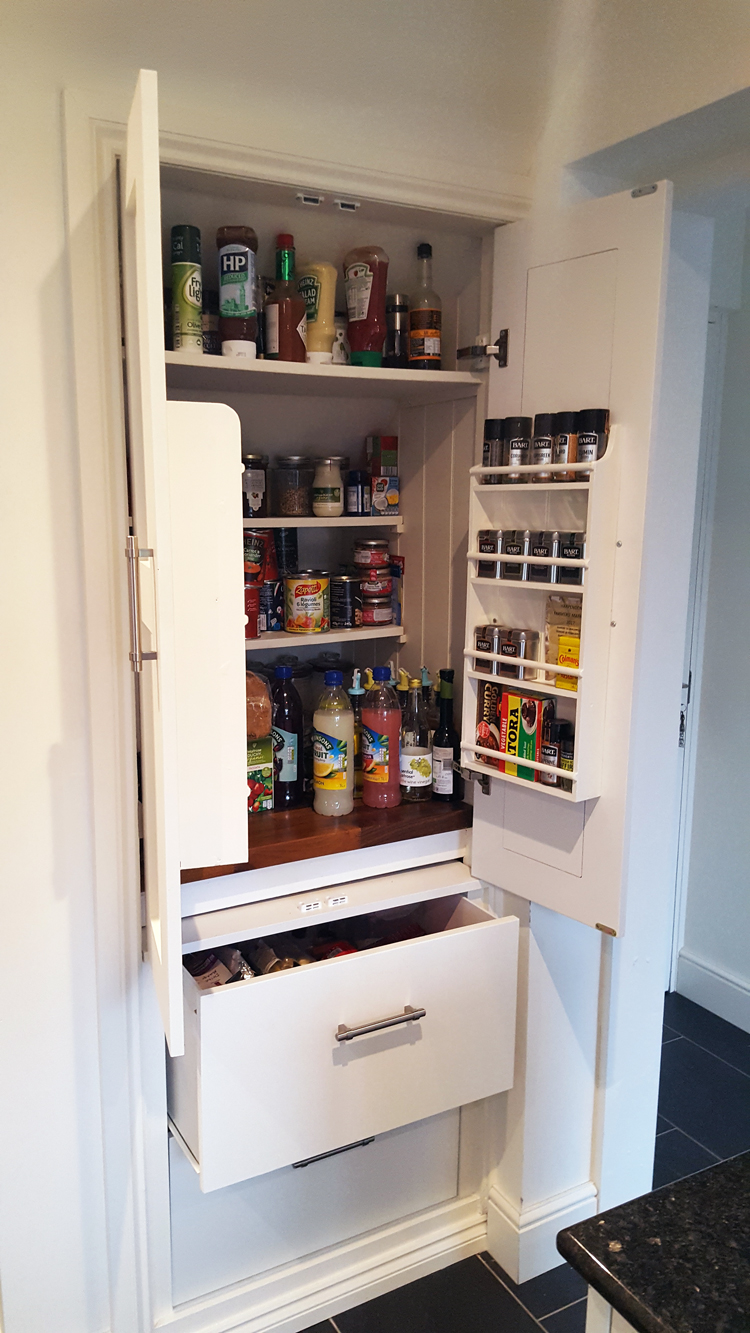 But even if your space is more conventional, Jali is a great choice. Non-fitted kitchen units are increasingly popular, especially for those in the rental sector. Many customers have used the Jali Designer to create central island units, as well as freestanding cupboards and drawer units.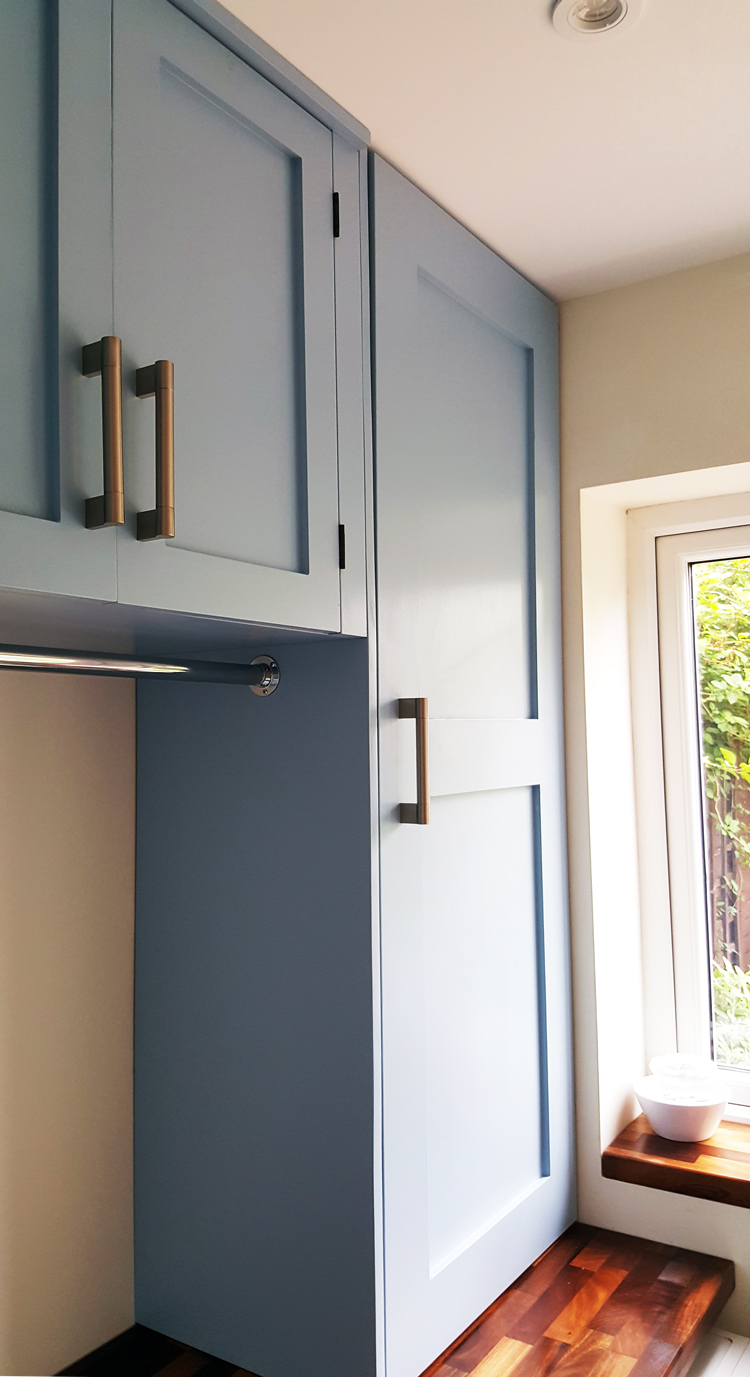 So you can take your pick – with Jali, you're always in control and independent. No pushy salespeople. No massive mark-ups or expensive in-house design systems whose results might tempt you over your original budget limit.
The Jali online design system is free, and so is most UK delivery of items costing over £50.00 (inc VAT). Moreover, our pricing is transparent and you can see how much you'll be paying right up front, including VAT, before you place your order. Add to all that superb quality, finish and customer service, and top off with a dash of pride in designing and assembling your own units. So if a bespoke kitchen is on your menu for 2017, Jali could just be your best recipe for success…