At Jali HQ, we've just been reminded how versatile a piece of furniture the dresser is. Such a brilliant way to solve so many storage problems – and don't our clever customers know it!  This week, we (very carefully) part-assembled the big, beautiful, oak-veneered piece below, before delivery. And it was stunning…
But look closely, and you'll see the right side of the lower unit is slightly wider than the left. This is deliberate, and ensures that, unlike a standard unit, it will fit perfectly into a less-than-perfect space between two walls. Our canny customer used the online Jali Designer to extend both the counter-top, and the upright to the side of the cupboards themselves, so the dresser would fit snugly into his particular space.
This dream dresser, and the one shown below in a customer photo (thank you!) was designed using our kitchen dresser designer, available for you to use, totally free of charge, here. To work the magic with the two opposite sides of the unit, go into the 'Advanced Mode' of the Designer. Then click the 'Position' button and choose the  'Fitted between two walls' option.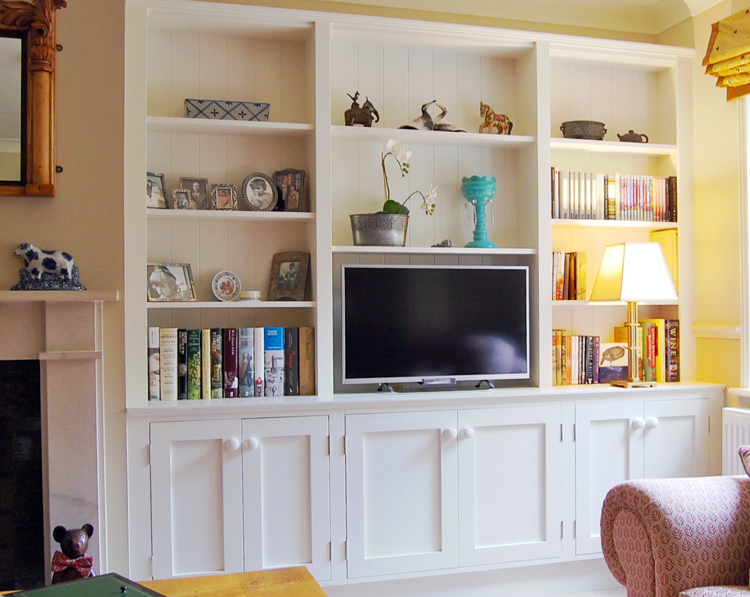 You can then extend the upright sections to create insets of the required width on both sides – and each can be different, to suit your particular room and situation. This ensures a seamless fit when viewed from the front, even though the actual width of the dresser – invisible behind the insets – will be less than its total width including the insets. You see – real design magic!
There are several other options to ensure you get the perfect fit – I'll be exploring these in future posts. But, in the meantime, if you have any questions, don't hesitate to contact us.
So if you've always dreamed of a big (or small) dresser as a focus for all kinds of family fun, warmth, welcome and entertainment, not to mention keeping everything tidy, and either hidden away or on show, as required, look no further than Jali. It will have the "wow!' factor, it will fit your needs perfectly and, most importantly of all, it will be yours. And not just in your dreams…