Yes, modern technology is brilliant, but have you noticed its not-very-pretty habit of taking over any space it's put in? Well, we have ways of helping you tame your tech and take it, quickly and easily, from dominant to delightful.
Take big, black flat-screen TVs – depending on where and how they are positioned, our Flexi shelving, deluxe dressers or cupboards can put them in their place, in the nicest possible way. Less diva, more darling.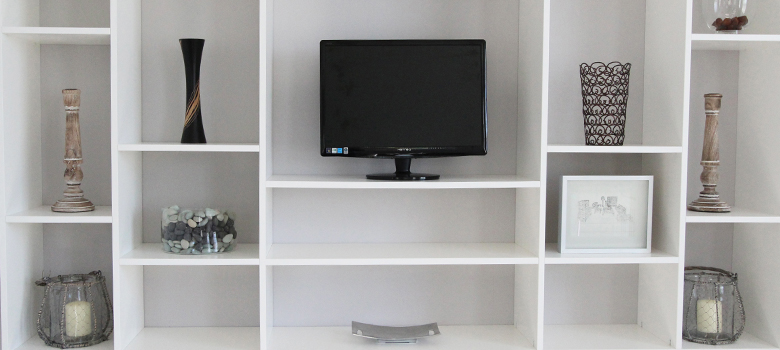 If your big TV is wall-mounted, you could 'frame' it with one of our brilliant Flexi shelving units, as seen above in our revamped showroom (yay!!) Quick to design and fit, a modern wall unit will transform a boring wall into a stylish talking point, and lessen the visual impact of a TV by grouping it with other objects. And, of course, with Jali you can design the compartments in your unit to show off all those items to their best advantage.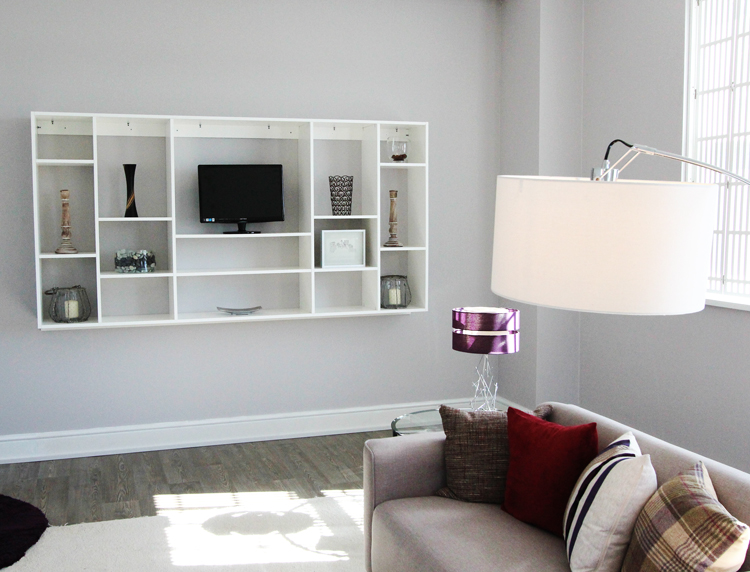 As Flexi shelving units have no back panels, they're perfect for fitting flush against walls; just use the 'Base' button on the Jali Designer to switch from 'Floor-standing' to 'Wall-mounted'.
One option is to use trunking to hide TV wires and cables, and cutting away part of the shelving to allow for this – several customers have told us they have successfully done this. It's a bit of extra DIY, admittedly, but nothing too difficult. Or, if you are having substantial building work done at the same time, it might be possible to recess the wiring completely… (And no, this is NOT a recommendation to start such a project. As if!)
As big flat-screen TVs are heavy, neither do we recommend using a Flexi shelf unit as the only support for one of these monsters. If you do want to stand the TV on a shelf, use our kitchen dresser Designer instead, to create a more substantial and safe base. Despite its (current) name, our latest designer can also create amazing floor-standing units and sideboards that make perfect cinema and media centres.
As these units are very substantial in their materials and construction, it's fine to stand a large TV on a shelf or on top of a sideboard. You can even extend the sides of the unit (effectively making a unit with an inset back) to cope with electrical sockets and other obstructions on the wall behind the unit. The Designer also lets you add cabling holes in the back panel, so cords and cables stay tidy and out of sight. All this design wizardry is totally free to use and available here.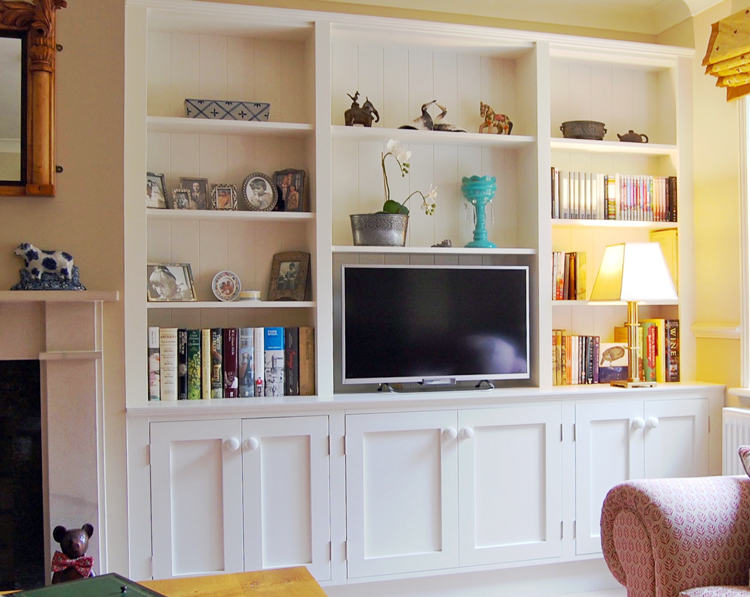 Finally, don't forget our simple but smart cupboards – they can also be used to stand a TV screen on, with other components hidden away behind the doors – lovely stuff!
So whether you're hooked on footie, the foot-stamping Victoria or hot-footing it with Strictly, we've got your back, helping you tame your home tech, and making it more stylish. And if Poldark ever footles around with 18th century DIY, you'll hear it here first. Promise.