We all have a washing machine, but most agree that it's not all that attractive… Throw in the tumble dryer and you have even more to hide away. Until these machines undergo some significant design improvements, most of us would prefer our boring old 'white goods' to be well out of sight.
Interior designer and stylist Becky Clarke, based in Herts, is one such person.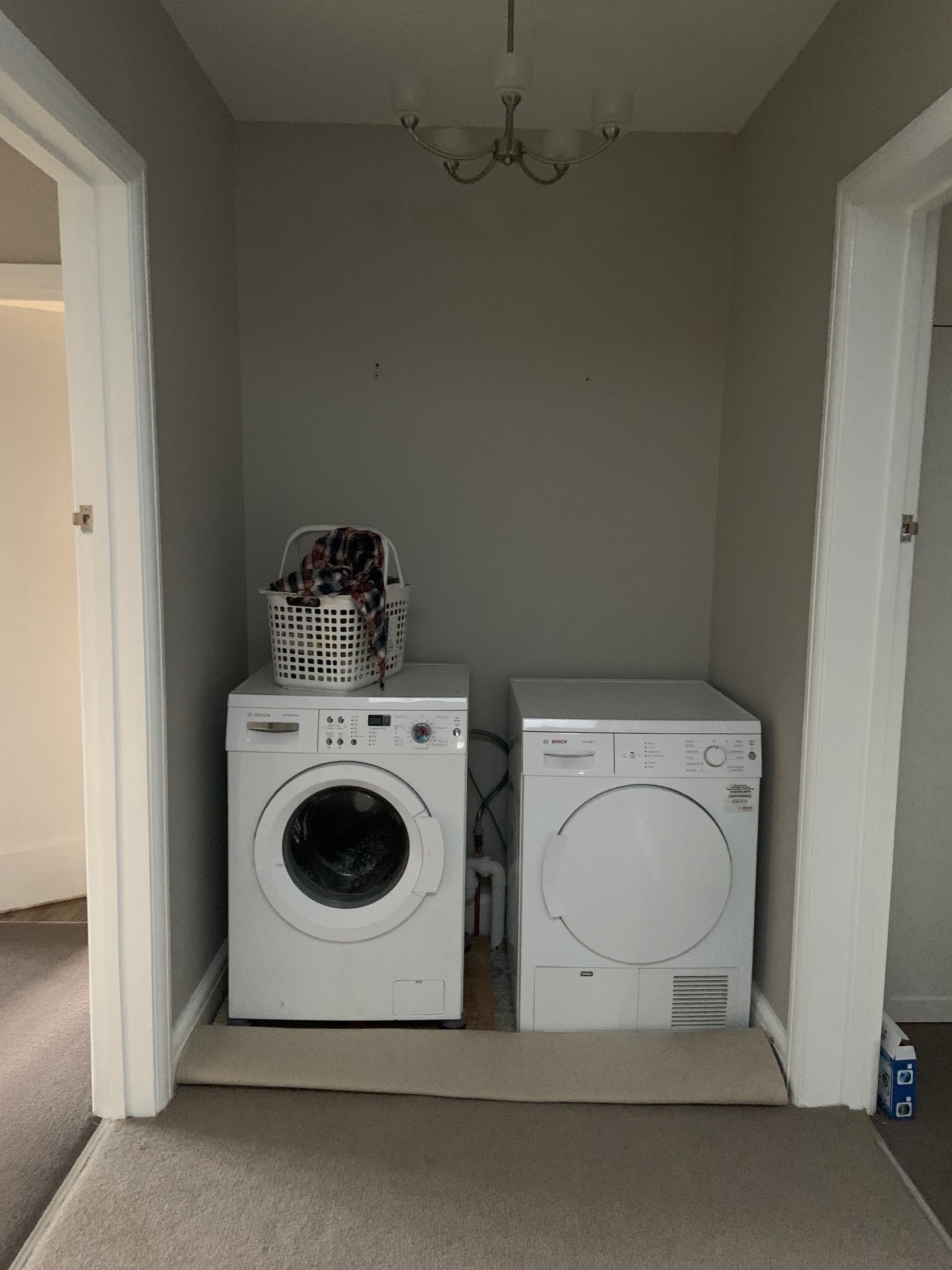 Becky first heard of Jali through House Beautiful magazine, and has been a loyal and lovely Jali customer ever since. Becky had an unused space on her hall landing which could cosily house her washing machine and tumble dryer. However, she knew she wanted to hide the gruesome twosome, and recognised that Jali's made-to-measure doors would make for the perfect fit.
Given the available space, placing doors in front (and a worktop on top) makes a lot of sense. The final result resembles a fully fitted and wholly appropriate built-in cabinet. Designed with folding doors, the 'cabinet' doesn't take up lots of space or block the bedroom doors on either side. Beautiful, yet functional.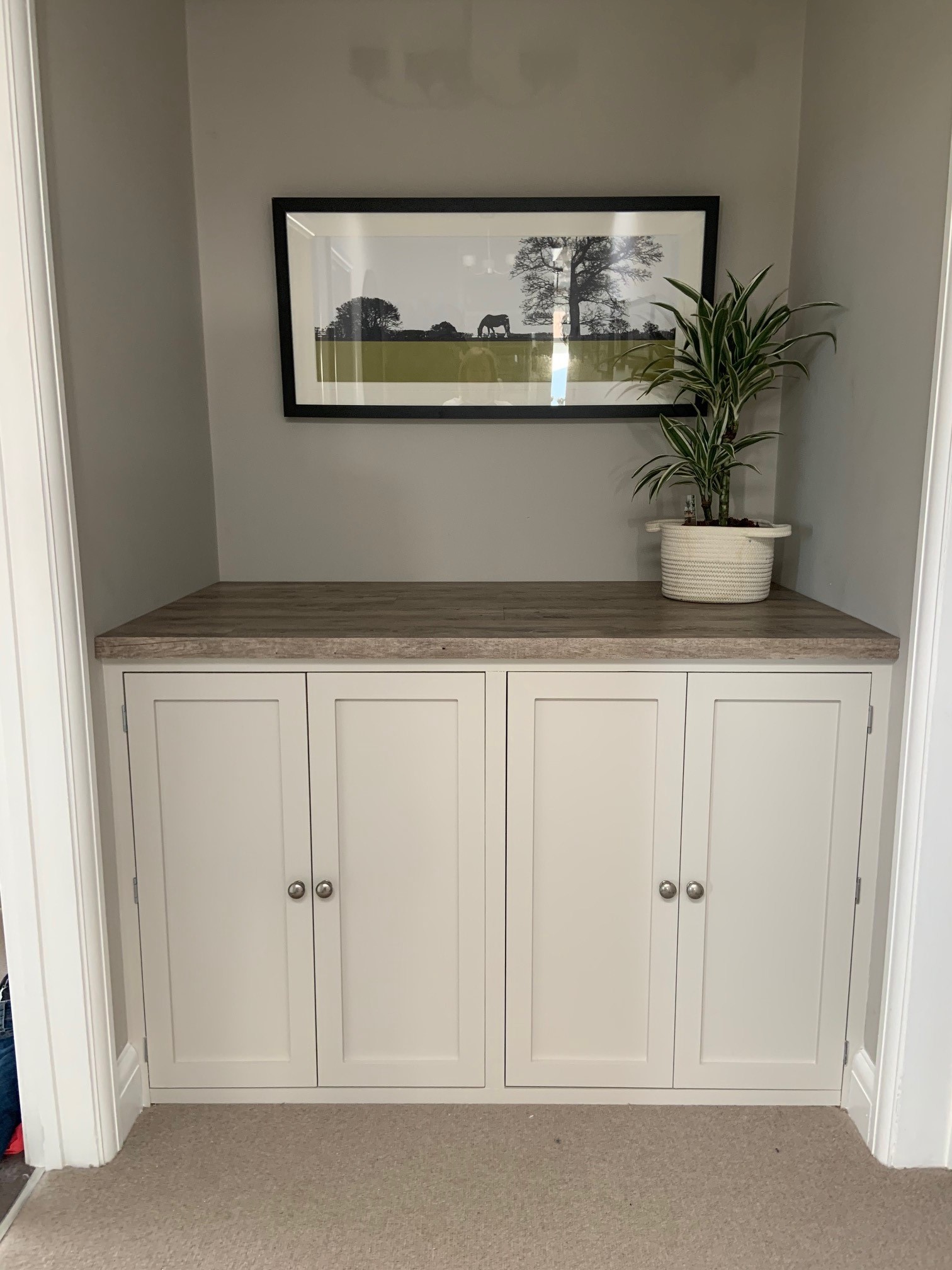 Becky started by creating a frame from 2 x 2″ pine wood. To avoid any cutting, she could have also used perfectly sized Jali MDF shapes… but we applaud her DIY spirit!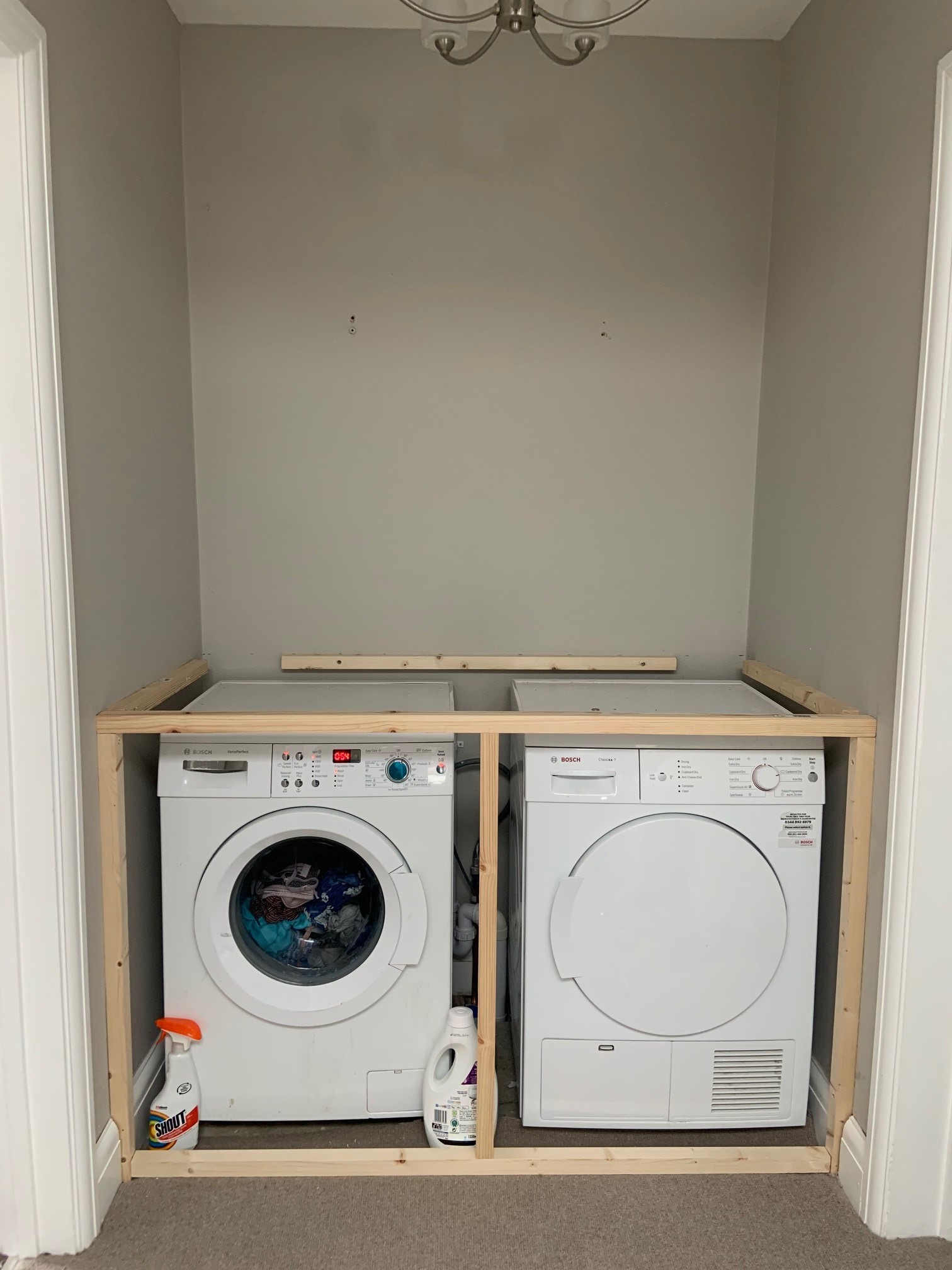 Next, Becky attached small hinges on the sides, and folding hinges in between each pair of doors to achieve the concertina effect. She described getting the concertina action as 'a little tricky' (later she laughed, 'No they were an absolute nightmare!') but the result was completely worth it. She took measurements and designed the doors only once the frame was in place, to ensure a faultless fit. Very pro!
The work top was a repurposed sheet wood Becky had lying around in the garage, which she covered in a vinyl wood plank flooring for the right look. Even better, it's waterproof.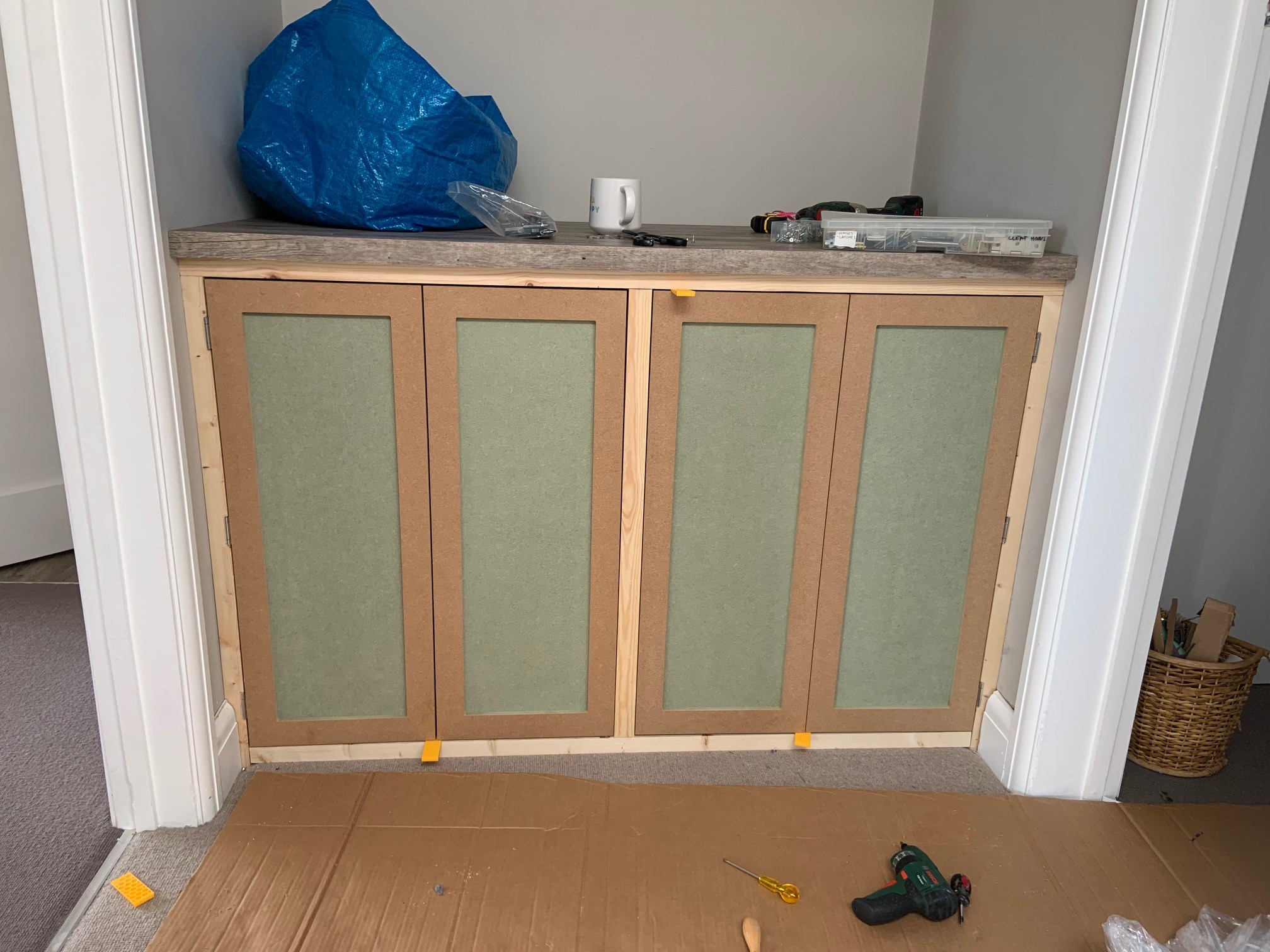 The yellow spacers help to set the doors in place before the hinges are attached. Becky primed and painted the doors and then attached the handles. Below are the concertina hinges used in between the doors.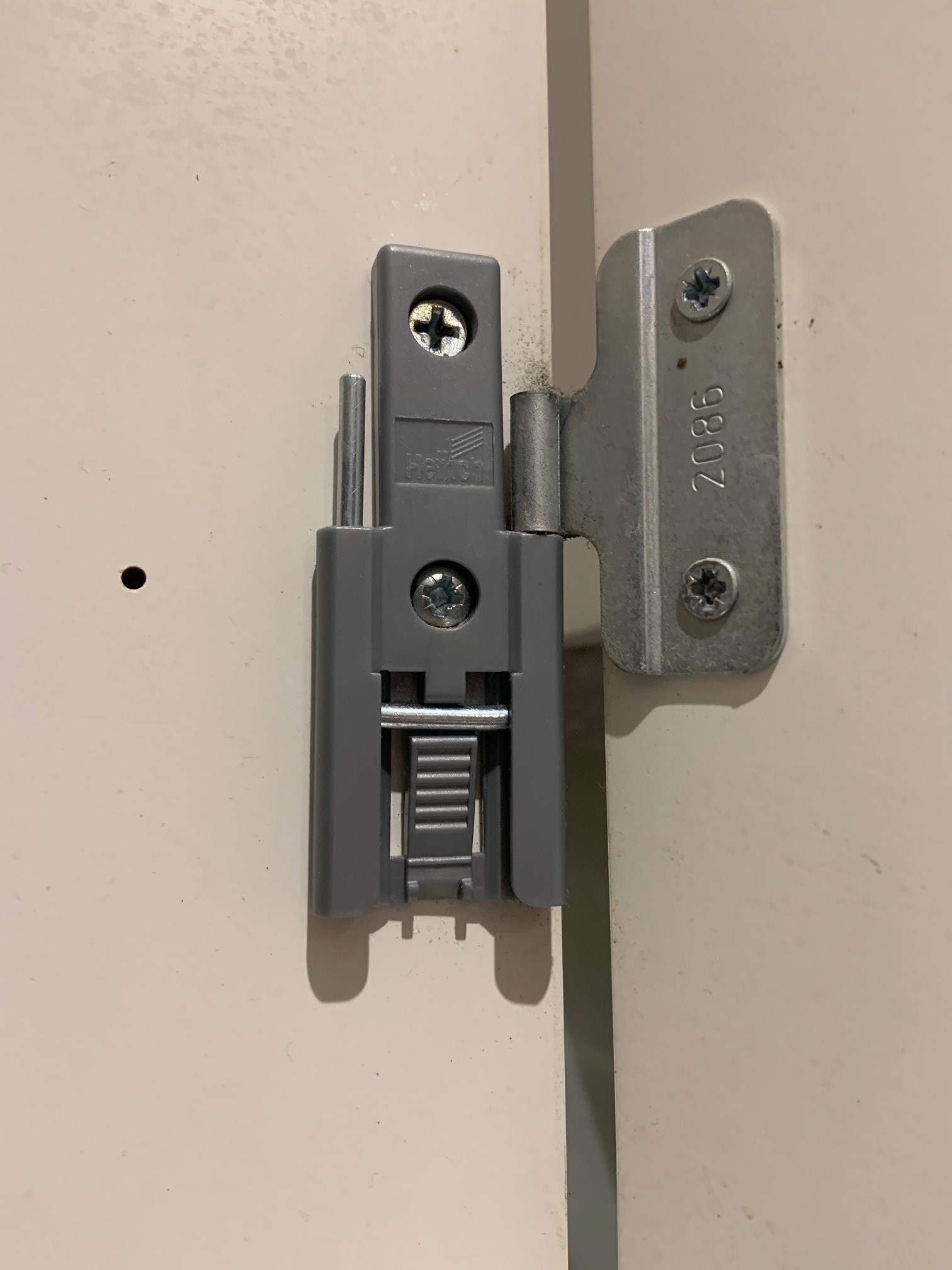 Mission accomplished; the kitchen is laundry-free and life is good. The project took about about 3 days to complete from start to finish, and the budget was as minimal as possible. Well done Becky on a fantastic job! To try something similar yourself, give our Bespoke Door Designer a spin.