This week, 'Handmade at Amazon' was launched. The online giant has finally realised that craft is 'A Thing', and a profitable one at that. First impressions of the 'artisan-produced' furniture on offer? Well, the terms 'Rustic', 'shabby chic' and 'distressed' make frequent appearances, as do converted wine barrels and farmers' milk cans… It's all very American rural and 'down-home' in style, though this may change as the site develops.
(I was also surprised to see my family name pop up some way down the first page, in an photo of a Personalized Door Office Name Plate ($26.99).  But it was Debra, a Nurse Practitioner, who was the proud bearer of the family moniker on this occasion. Still, I now know where to go if I ever need one. (A nameplate, obviously, not an American Nurse Practitioner called McNamara.)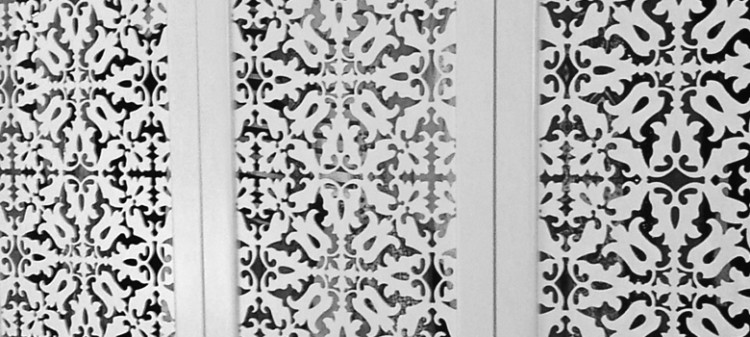 At Jali we prefer our furniture, if not our nameplates, to be a tad more sophisticated. But we also make it easy for you to get DIY creative, to design and assemble your own, unique pieces, without the risk of splinters, excessive swearing or the need for a fully-stocked carpentry workshop.
Recently, clever customer Annette used our fabulous fretwork panels to create wardrobe door inserts. Annette ordered the panels and her joiner did the rest. She was kind enough to send us a photo, and told us that she has also bought some coloured plywood to put behind the panels to conceal what's behind the doors, but also to add a nice contrasting backdrop. We do like the sound of that!
So take the crafty short-cut to the artisan, creative DIY look. No mess, no fuss – just fast, fabulous, unique pieces you'll be proud to live with (and show off) for years…