Having focused on small fretwork panels in a previous blog post, we were delighted to get orders for many of the Christmassy items we suggested!) Of course, Jali fretwork panels of all sizes can make BIG design statements. Firstly, they are the perfect way to glam up a room without blowing the budget. Secondly, they can often solve those nagging problems that no traditional decorating techniques can cope with.
Recently our clever customers have been ordering fretwork panels to go into kitchens, sitting rooms and boot rooms, porches and loos, showrooms and snugs. As well as being glamorous, our panels come with lots of extra benefits. They are being used to cover windows, or replace grilles in existing radiator cabinets, cupboards and cabinets.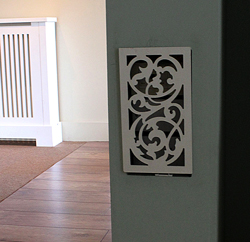 Various holes, vents and gaps are also being filled, using versatile Jali panels with different sizes, patterns and border widths, according to requirements. The one on the right, in pattern 2082, is being used here to mask a wall recess containing electrical sockets – similar panels will elegantly cover ugly fuse boxes, air vents and gas/electricity meters.
One of our customers is even using Jali fretwork panels for a sofa-building project – now that's a piece of furniture now that's a piece of furniture we would love to see when it's finished!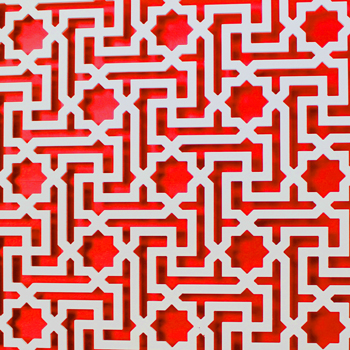 Just in the last week, we've also had several enquiries from the USA, asking if we can ship our fretwork over to the States. Seems it's much admired over there too, but nobody else makes it quite like us…
Another great feature of Jali fretwork is its choice of finish – if painting your items won't give you just the impact you're aiming for, you can design your panels in real oak or walnut veneer. It gives a wonderfully warm, rich and sophisticated effect. And because the veneer we use is cut from proper, actual trees, each panel will be slightly different.
The walnut veneer option is not yet available on the online Jali Designer, and it's a little more expensive than oak. So if you are interested, please contact us once you've created your design, using the oak veneer option. We can then provide you with a sample and/or a quotation for the walnut finish.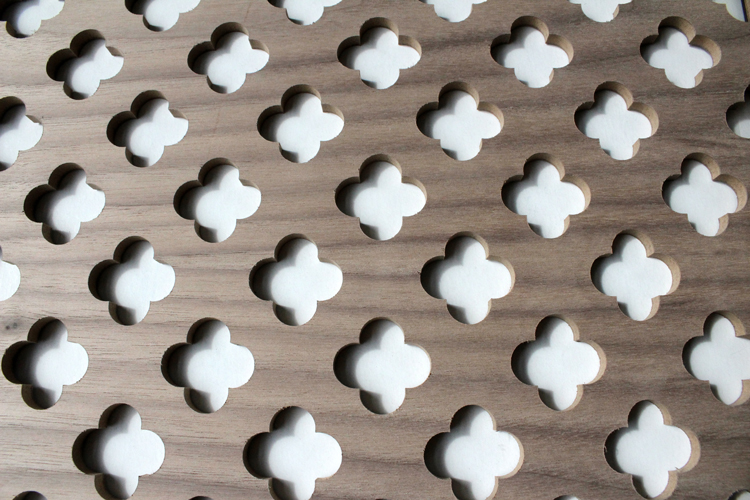 And as long as your design is less than 1180mm in width or height, you can choose    whether the wood grain on your veneer, in either wood, is vertical or horizontal. The pattern above is 7622, with the grain running horizontally. Below is pattern 7662, with  vertical grain; both are in real walnut veneer.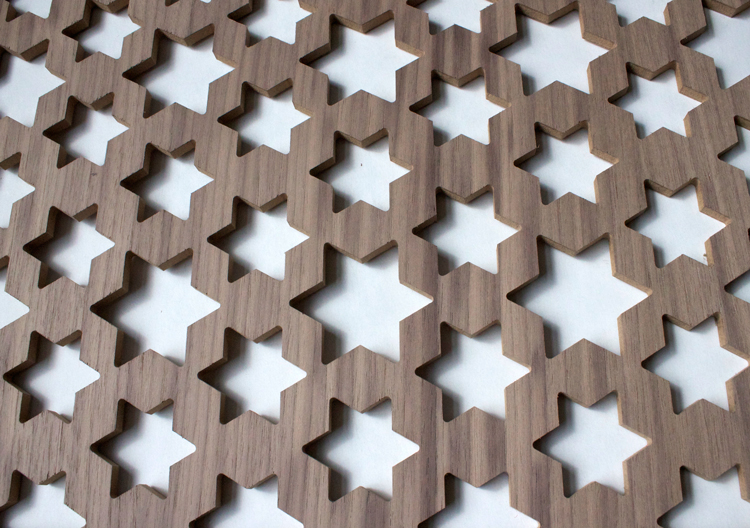 The option to switch direction is really worth knowing, as, depending on the shape and fretwork pattern, the way the grain lies can make a noticeable difference. To make the change, click the 'Colour' button on the left of the screen, then select 'Oak veneer' in the pop-up window. When you close the window, you'll see 'Veneer grain direction' on the left of the Designer, with a 'Change' button underneath. Hover over the question mark button and you get the following message:
"Horizontal grain runs left-to-right as you look at it here; vertical runs top-to-bottom. If your panel is longer than 1180mm in either direction, the grain will run parallel to that (longer) side."
Whatever pattern, size or finish you choose, for whatever purpose, you'll be joining a brilliant, modern DIY movement. You could even call it a quiet, but very decorative, fretwork revolution!