A Jali made-to-measure dresser is the true heart of a home – and even more striking with a real wood veneer finish.  Our new box dressers are proving very popular – and they're not even on our website yet! Our new dresser designer is our response to the requests of the many customers who asked us if they could have something different and just a little bit special…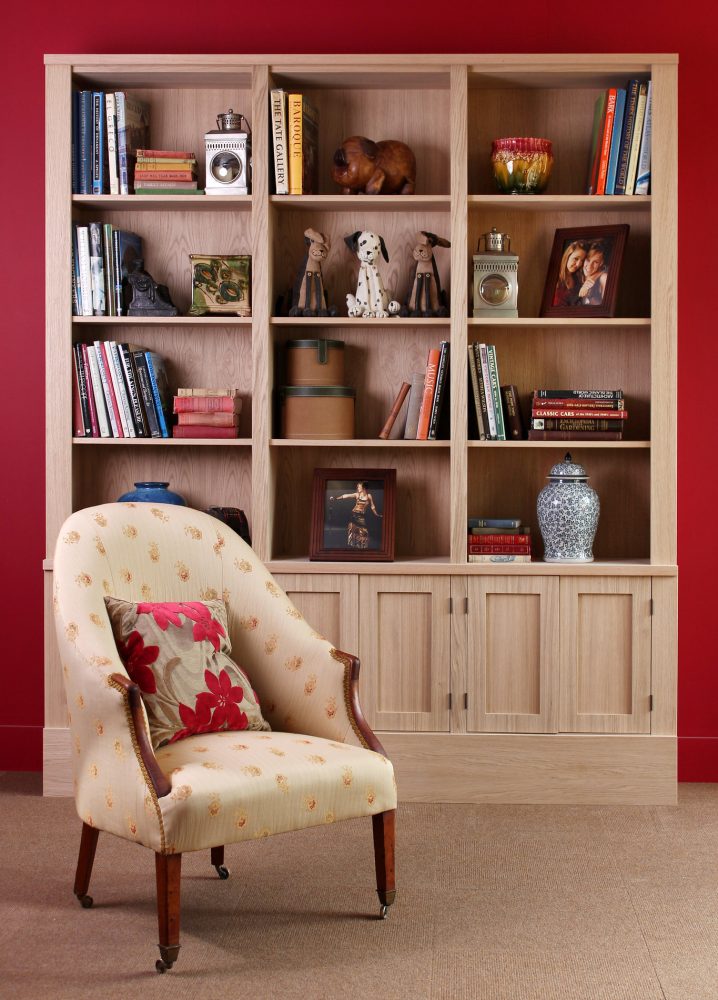 We can't get exactly what we want by using your current online Dresser Designer, they said. Could we have soft-close drawers as well as cupboards and shelves? Well, of course! Wider shelf-space and cut-outs for our audio and TV equipment and all its cables? Certainly. A 'tongue-and-groove'-effect back, rather than a plain one? Consider it done. Customised spacing for shelves, even in different sections? Fine. Oh, and the option of recessed skirting? No problem…
Our resident design genius Jim has been hard at work on these requests and more. The results of his extraordinary brain, eye and hand co-ordination, plus his awesome programming skills, can be seen – and played with – here in the dresser designer. There are some tweaks still to be made, and to describe them as kitchen dressers doesn't totally do them justice, but we think you'll agree that it's a pretty amazing piece of design software all the same.
And some pretty amazing furniture has been created using it; dressers, of course, but also stunning wall storage units, TV and media units, sideboards and neat home-office work-stations…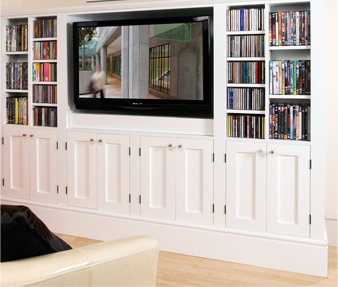 Jim has put a huge amount of helpful information in the new Designer, so it's a good idea to check it out it before you start designing your own piece for real. It will really help you understand the almost endless possibilities of the new system. Follow the incredibly useful step-by step online guide to designing your own dresser.
Then to get a feel for the new system, just choose one of the examples on the first page and click the "Customise" link under the image. Click through the "Next" buttons on the right of the Designer and you'll come to the "Advanced mode" screen. This gives you the choice of staying in "Easy mode" or exploring all the extra refinements you can make via the "Advanced" part of the design process.
In "Advanced" mode, you can do lots of clever things: remove a base section to create a desk, for example, design an asymmetrical unit or have holes cut in the back for cables. And the "Finish" button on the Designer, in both modes, gives you several options, including a primer, an oak or walnut veneer or a "mixed" finish for your dresser. This last lets you choose a primed dresser with a real oak veneered top; we can even provide a top-coat for the non-veneered surfaces but you'll need to contact us for details.

As the new dresser designer is still a pre-production tool, you'll also need to contact us to confirm how much the final unit will cost, and the way you'd prefer it to be delivered. In the final step of "Advanced" mode, Jim has even provided a "Build" button that tells you how big each of the sections that make up your unit will be. (A section is an individual cupboard, or shelf unit, or drawer unit, as seen above.) You can use this to work out whether you will have any problems getting the sections into the room for final assembly, because of awkward narrow stairwells or doorways, for example.
At this point, rather than having the unit built up into sections, you can opt to receive the whole unit flat-packed for self-assembly. We'll then change your order from a dowelled-and-glued assembly to a cam-and-bolted one (like the fixings in most kitchen cabinets). It's important to note that some of these fixings may be visible, but we make them as unobtrusive as we can!
You'll find a list of all the features of our new furniture here. And don't forget that we're here to help, from 9.00 to 5.30 on weekdays. As Jim says, we don't use robot receptionists or call centres, so you'll get through to one of us straight away!