With a Jali made-to-measure bookcase, our clever customer Angela has done it again! Having appeared in a previous Jali blog on utility rooms, Angela then kindly sent us photos of her kitchen before and after the makeover magic.  So we can now bring it to you in all its glory…
This was Angela's kitchen, complete with Angela's Ancient Aga: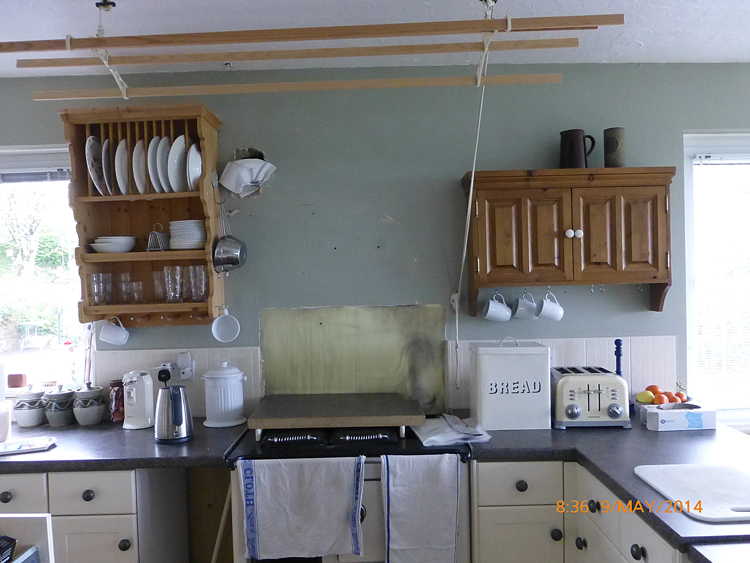 I think it's fair to say that Angela was not a great fan of this particular Aga, so its replacement with a bespoke shelving unit – actually a Jali bookcase without a plinth – was a huge improvement. And it was also "goodbye" to the wooden plate-rack and cupboards and "hallo" to a chic, asymmetrical Jali cupboard and shelf wall unit, created with our new luxury dresser designer.
Finally, Angela ordered one of our gorgeous shaker peg-rails, which she fixed under the cupboard unit to hang mugs on. It also takes the place of a batten, providing extra safety and stability for the wall unit and making installation easier.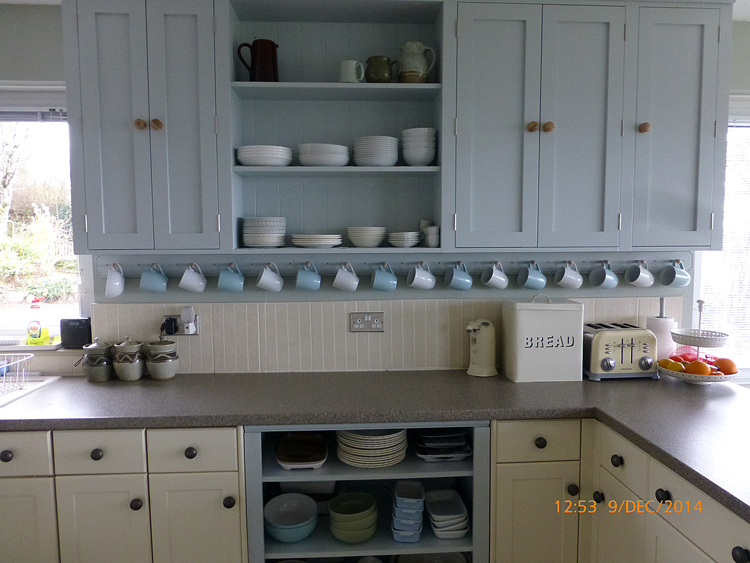 Here's another view of the kitchen, AJ (after Jali):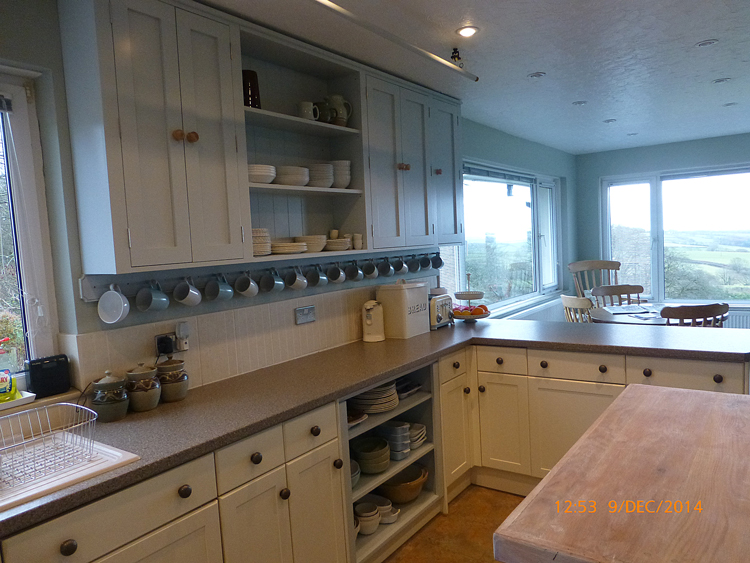 As you can tell, the view from the kitchen is also magnificent – Angela and David live in breathtaking countryside near the North Devon coast. They offer bed and breakfast  accommodation in a separate apartment at their home, Bratton View (the clue is in the name), but this is no ordinary B&B: it has 100% positive reviews on Tripadvisor for every category!
To the delight of its multitude of fans, Bratton View is reopening on 1 March 2015. You'll find more information and contact details at www.brattonviewbedandbreakfast.co.uk – I want to stay there later in the year, if I can still get a booking…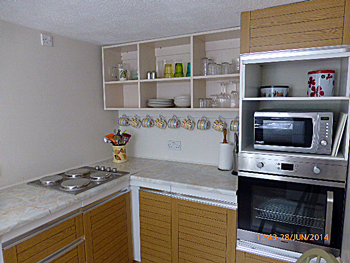 Angela told me she was also delighted that she'd been able to, in her words "spruce up the annexe kitchen a bit without spending too much money", using our versatile Flexi shelving and MDF custom shapes.
It's true – our furniture is incredibly good value and the final results are amazing. Our canny customers prove time and again that, with a bit of imagination and adaptation, you can furnish the whole house (including annexes!) with brilliant, practical storage that also looks great – without spending a fortune.
What will you do with Jali to get your home looking and working better? We'd love to hear your stories and see your photos. And if you need advice and information on any of our products, check out our website, email us at sales@jali.co.uk or call us on 01227 833333 – we're always happy to help!