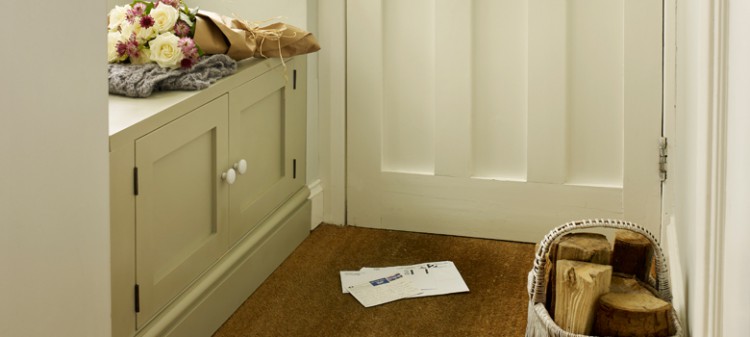 It's autumn, as if you needed reminding, and sunhats, flip-flops and espadrilles are giving way to boots, scarves and wellies. The glorious unpredictability of the UK climate can mean several changes of footwear, often in the same day, never mind all the other stuff you need when you leave the house and come back in again. Factor kids and/or dogs into the equation, and you can multiply the mess potential several times over.
Here at Jali we know that clutter in hallways and porches is a very common problem. Take our customer Nik. "We wanted a small cupboard in our porch to tidy up the clutter; shoes, gloves, umbrellas etc, " he told us. "Finding a unit that perfectly fitted the space proved to be nigh on impossible. I'd heard of Jali and went on your website. I quickly found the way to design a custom cupboard using your online designer tool."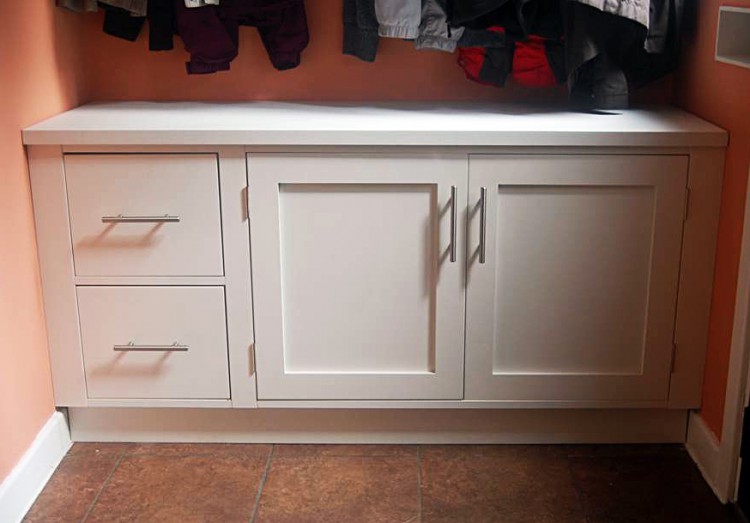 For those of you new to Jali, this is the bit of digital wizardry that appears on your screen when you click the 'Customise' link under any of our product examples. But in Nik's case, he wanted custom furniture: a combination of cupboard and drawers. So we sent him a link to our brilliant Kitchen Dresser Designer It's not yet on our website, but you can find it here. Nik used this brilliant free tool to create his ideal made-to-measure unit, above.
Firstly, Nik continued, "Careful measurements were taken of the porch and entered into the designer. We adjusted the layout so we had two drawers on the left and a double cupboard to the right. We set the height and depth and even the height of the plinth. We chose the design to be simple, but could have had a variety of different embellishments. We chose the handles from over a dozen options. The website shows you how the cabinet will look and you can choose how it is painted."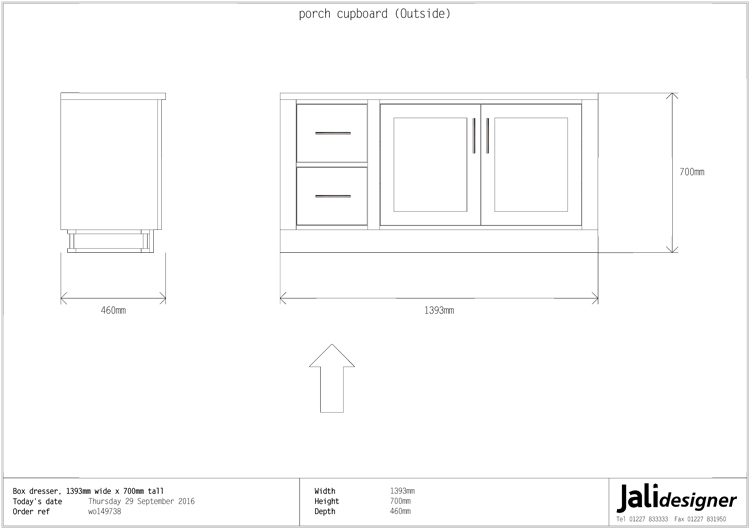 Nik decided to have his unit primed in white, but he could have requested our top-coating service – contact us for more details.
"When the cupboard arrived it was in a variety of boxes and we read through the detailed instructions. We were very pleased to find that the drawers come already made," Nik says. Soft-close drawers are included in the Kitchen Dresser Designer as one of the options, but you can also ask us to make them for our standard drawer units.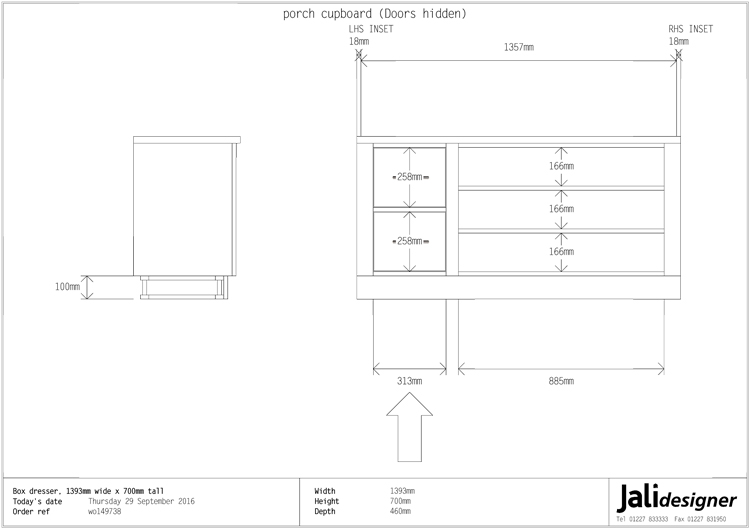 It didn't take long to finish the job. "Putting the plinth in place we were relieved that our measurements were accurate and quickly made the box that houses the two drawers. Once one box was made the second was quickly done and after adding the drawers, doors and top we were very happy with the result."
And the verdict? "We now have a much tidier porch! Thanks for making custom furniture such a painless process." We're very pleased that you're pleased, Nik! And thank you for sending us the photo of your custom furniture, doing its job of keeping the clutter under control like a good'un. And at Jali we'll continue to help customers like you design their ideal furniture and keep the mess at bay, one unit (or should that be porch?) at a time…