Alcove alchemy, close-fit chic – whatever you call it, creating built-in furniture is a kind of magic. But when you team up with Jali, you'll find it's a very practical kind of sorcery, that will transform your home and amaze your admiring family…
One of our clever customers has just sent us photos showing his wizardry with several Jali pieces – he used our unique online Designer to help him achieve a superb fit and finish. Below is a combined radiator cover and cupboard: our customer added his own shelves  but you could use our custom MDF shapes to make your own, quickly and cheaply.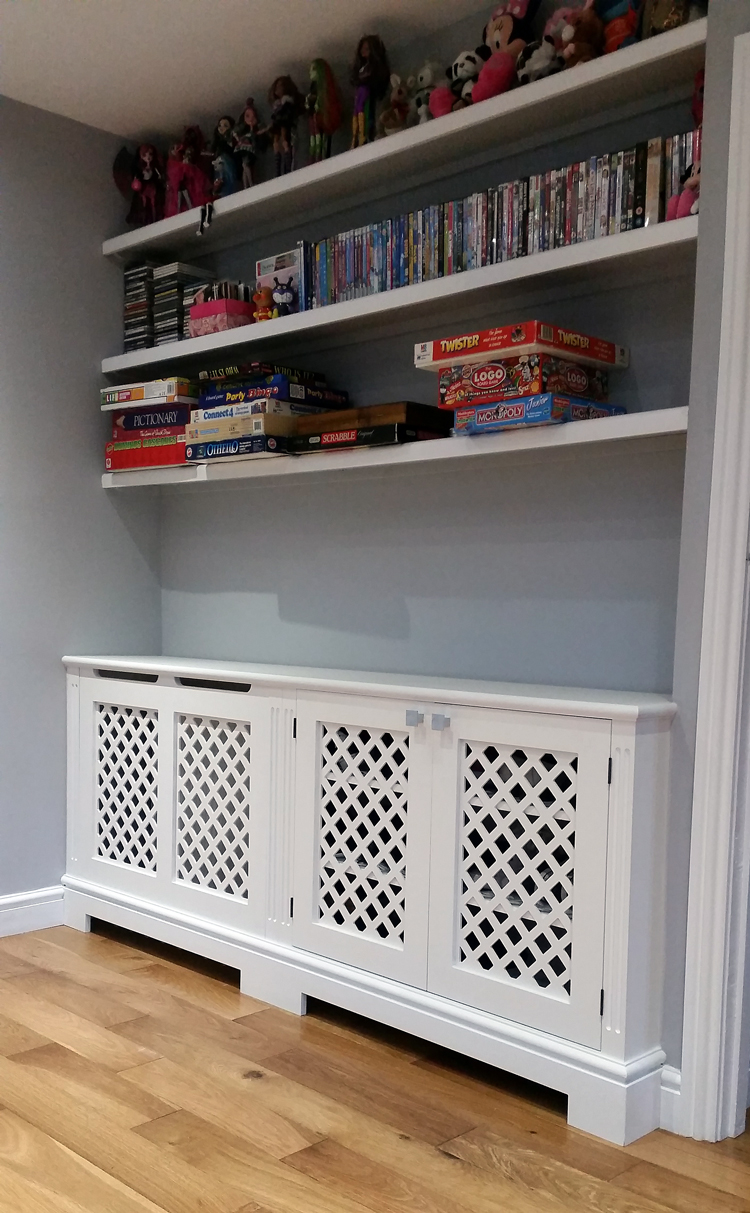 To design a similar unit, create a cupboard and radiator cover of the same height and depth, and ensure that the right- and left-hand sides where they will join are flush-fitting. Then contact us on 01227 833333 and ask us to make a single top and a skirting for the base. The two units will then be tied together securely and form a single, smart piece of  furniture. The opposite ends can either be freestanding, or, as in this case, can fit flush against one wall, for the ultimate in tailor-made cabinetry.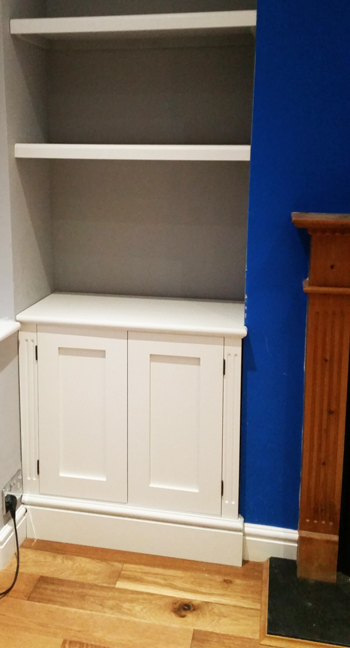 Our clever customer also designed and assembled two cupboards to fit in alcoves on either side of a fireplace.
He used the 'Position' button on the Jali Designer to choose the 'Fitted between two walls' option, then created insets on either side (18mm and 20mm) to ensure a perfect fit.
As is often the case, one alcove was slightly wider than the other – the beauty of the Jali system is that it allows you to create two units of slightly different sizes that look like a perfectly matched pair.
And if you look closely at the fluting on the cupboard uprights, it matches that on the mantlepiece next to it – how smart is that?
Our customer's top tip? Walls are never straight – this is something Jali's DIY team have learned the hard way too, and it's why we designed the process to be so versatile and adjustable. He also says you do have to be prepared to do some scribing and perhaps make other adjustments to get a perfect result. But they are very pleased with the look and quality of the units, and we're very happy to hear it.
There's another, spectacular success story in this customer's file – but I'm saving that for a future blog. In the meantime, we think he deserves a huge round of applause for this transformation, achieved, not with a magic wand, but a few woodworking tools (and a bit of help from Jali!)