It was lovely to get a message from some Jali customers in the Netherlands recently, saying how pleased they were with the new decorative shutters they'd bought for their little Dutch cottage. They also asked if we would like a photo, with a windmill in the background? Of course we said yes please, we'd be delighted!
It seems particularly good timing as today, Friday 20th March, is this year's Spring vernal equinox, one of the two points in the the year when day and night are of equal length. From now on, our days will start to get longer than our nights, so it's time to look forward to much more daylight coming through our windows…
Of course, not everyone is lucky enough to have a charming Dutch windmill just across the way, but choosing shutters for just the lower half of the window means you get the benefit of privacy without losing the entire view, wherever you happen to live. Our customers told us that "a lot of tourists walk past and admire the shutters".
And it's not surprising that the town of Huesden, where our customers live, attracts a lot of tourists – it really does look amazing. Here's an aerial view courtesy of Rijksdienst voor het Cultureel Erfgoed, via Wikimedia: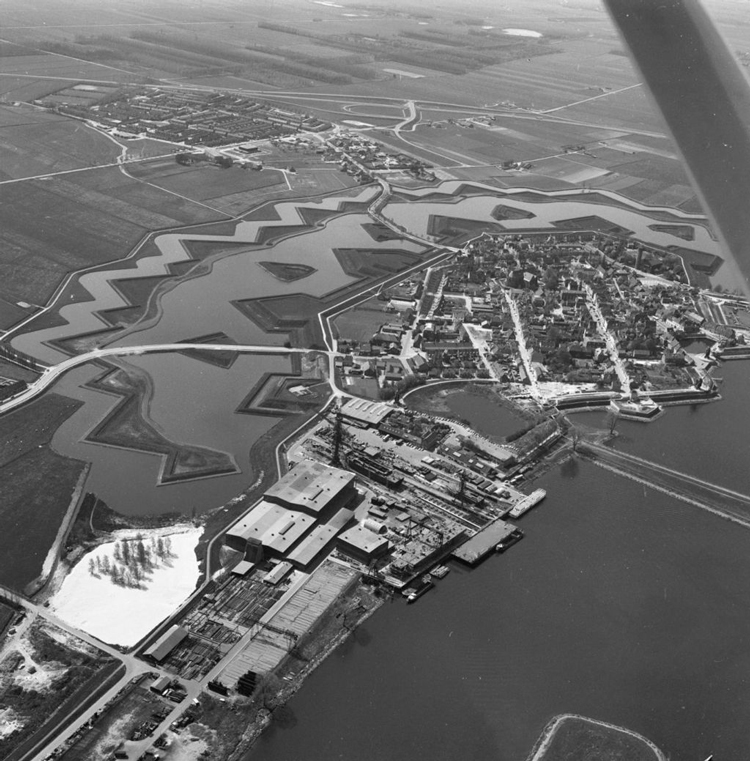 A small fortified town to the west of Den Bosch, and situated on the river Meuse, Heusden has the remains of a medieval fortress and is surrounded by rings of defensive moats and ramparts. Restoration of the town began in the 1960s; it also has an attractive harbour and marina, as well as beautiful houses, canals and those iconic windmills…
If the advent of spring is making you look at your windows and the world beyond them in a new way, grab your tape-measure out, zip over to our website and design yourself some stunning shutters. There's a choice of lovely fretwork designs, with inclusive flat or sideways fittings to suit different types of window frames. You'll find full details on measuring and fitting here – you'll see why it's so easy to catch the shutter bug!